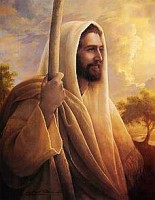 This morning I was reading in the book of John in the 14th chapter and I was reading verses 15-21. They read, "If you love me, obey me; and I will ask the Father and he will give you another Comforter, and he will never leave you.
17 He is the Holy Spirit, the Spirit who leads into all truth. The world at large cannot receive him, for it isn't looking for him and doesn't recognize him. But you do, for he lives with you now and some day shall be in you.
18 No, I will not abandon you or leave you as orphans in the storm-I will come to you.
19 In just a little while I will be gone from the world, but I will still be present with you. For I will live again and you will too.
20 When I come back to life again, you will know that I am in my Father and you in me, and I in you.
21 The one who obeys me is the one who loves me; and because he loves me, my Father will love him; and I will too, and I will reveal myself to him." TLB
Verse 15 is 7 words. I was reminded that the number 7 is the number of completion because God created all things in 6 days and rested on the 7th. Jesus spoke in that 15th verse a statement, "If you love me, obey my commandments." If there's one verse in the Bible that does not need interpreting surely it's this verse. After reading this I ask myself a question, how much do I love God and the answer came to me, how much do I obey His commandments?
Verse 16 Jesus tells us something, that if we obey His commandments and love Him, He will ask God to give us another counselor, who will NEVER leave us. I find great peace in this promise. That God is always with me through this counselor, the Holy Spirit.
Verse 17 tells us that the Holy Spirit leads us into ALL truth. It is impossible to understand the Bible and what truth really is without the Holy Spirit and we cannot receive the Holy Spirit unless we believe in Jesus Christ. Verse 18 Jesus says that He will not abandon us. Let's look at that verse again.
Verse 18, "No, I will not abandon you as orphans." You notice God is going send the comforter and we know that Jesus will never leave us. This speaks of the Trinity: God the Father, God the Son, and God the Holy Spirit. In a world of indifference, of greed, and cruelty, I can find love in God and in knowing Him. I can love others, YES, even my enemies. I pray for peace in the world and in your heart.
This is Brother Shep asking you to think about this.
Matthew 28:18-20
"If you are growing, you are going"