Two Near Strangulations Involved Young Children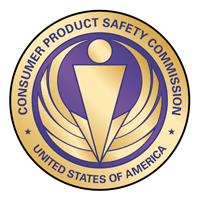 Washington, D.C. – The U.S. Consumer Product Safety Commission, in cooperation with the firm named below, today announced a voluntary recall of the following consumer product. Consumers should stop using recalled products immediately unless otherwise instructed.
It is illegal to resell or attempt to resell a recalled consumer product.
Product Information
Name of Product: Roman shades and roll-up blinds
Units: About 6 million Roman shades and about 5 million roll-up blinds
Retailer: Lowe's Home Centers, Inc., of Wilkesboro, NC and Lowe's HIW, Inc., of Tukwila, WA. (Lowe's Stores)
Hazard:
Roman Shades: Strangulations can occur when a child places his/her neck between the exposed inner cord and the fabric on the backside of the blind or when a child pulls the cord out and wraps it around his/her neck.
Roll-Up Blinds: Strangulations can occur if the lifting loop slides off the side of the blind and a child's neck becomes entangled on the free-standing loop or if a child places his/her neck between the lifting loop and the roll-up blind material.
Incidents/Injuries: CPSC is aware of two incidents of children that became entangled in the exposed cord found on the backside of Roman shades while looking out of windows. In November 2009, a 2-year-old boy from Arvada, Colorado was found with the inner cord wrapped around his arm and neck. In July 2010, a 4-year-old boy from Lexington, South Carolina suffered a rope burn to his neck after becoming entangled in the cord of a Roman shade. No incidents have been reported related to roll-up blinds.
Description: This recall involves all styles and sizes of Roman shades and roll-up blinds sold by Lowe's. Roman shades with repair kits and roll-up blinds with release clips right below the head rail on the backside of the blind are not included in this recall (see pictures below).
Sold at: Lowe's stores, other retail stores and at www.lowes.com since at least 1999 through June 2010 (Roman shades) and between at least 1999 and January 2005 (roll-up blinds) for between $10.00 and $1,800.
Manufactured in: China, United States, Mexico and Taiwan
Remedy: Consumers should stop using the recalled Roman shades and roll-up blinds immediately and contact the Window Covering Safety Council (WCSC) for free repair kits at 800-506-4636 anytime or visit www.windowcoverings.org
Consumer Contact: For additional information, contact Lowe's at 800-445-6937 anytime or visit the firm's website at www.lowes.com
Note: Examine all shades and blinds in your home. Make sure there are no accessible cords on the front, side, or back of the product. CPSC recommends the use of cordless window coverings in all homes where children live or visit.
CPSC is still interested in receiving incident or injury reports that are either directly related to this product recall or involve a different hazard with the same product. Please tell us about it by visiting https://www.cpsc.gov/cgibin/incident.aspx
About The U.S. Consumer Product Safety Commission
The U.S. Consumer Product Safety Commission is charged with protecting the public from unreasonable risks of serious injury or death from thousands of types of consumer products under the agency's jurisdiction. The CPSC is committed to protecting consumers and families from products that pose a fire, electrical, chemical, or mechanical hazard. The CPSC's work to ensure the safety of consumer products – such as toys, cribs, power tools, cigarette lighters, and household chemicals – contributed significantly to the decline in the rate of deaths and injuries associated with consumer products over the past 30 years.
To report a dangerous product or a product-related injury, call CPSC's Hotline at 800-638-2772 or CPSC's teletypewriter at 301-595-7054. To join a CPSC e-mail subscription list, please go to https://www.cpsc.gov/cpsclist.aspx. Consumers can obtain recall and general safety information by logging on to CPSC's Web site at www.cpsc.gov.
Sections
News
Topics
Lowe's, Recall, U.S. Consumer Product Safety Commission