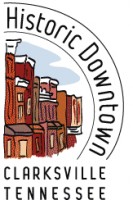 As I sit here in my downtown shop on a Sunday I find myself reflecting on why I chose downtown Clarksville for this business experiment of mine.
When Darren and I first learned we'd be moving to Fort Campbell, KY, we immediately began researching the surrounding communities and our options for our place to call "home" for the next three years or so.  Little did we know that we'd be establishing ourselves so deeply that it would take an act of God to uproot our family.
After a lot of internet research and friendly recommendations, we settled on Clarksville as our destination.  A few months prior to our departure from Germany, I flew to Ohio to meet my in-laws who had agreed to accompany me to Tennessee for a house hunting excursion.  In one whirlwind weekend, we found our dream house and Darren and I both knew then, it was not likely we'd ever choose to leave the area.  (Hard to do when your husband is still active duty, but we've made many sacrifices over the years—by "we've," I mean "he has." )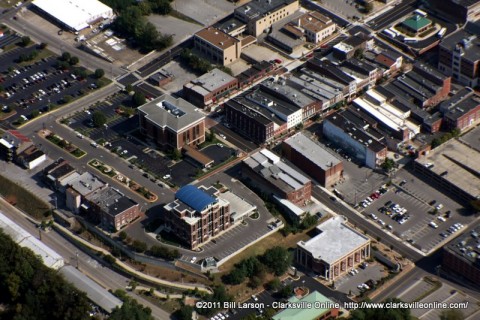 Shortly after arriving in Clarksville, we began to embrace everything we knew we'd love about living downtown.  Within a month of two we were frequent diners at The Blackhorse and The Deli; card carrying members of the Customs House Museum; parishioners at Trinity Episcopal and regulars at each new show opening at The Roxy Regional Theatre.  What's not to love?
While Darren was deployed to Iraq in 2003, I started taking courses at the Tennessee Small Business Development Center.  At first, it was just to educate myself about the process for opening a small business.  Then, as I entered the "Business Plan" stage of the training, I began to realize this might actually happen.
As I was working with my advisor, she was helping me research my demographics, in an attempt to pick the ideal location for my business.  It was then that I explained to her that my location was not negotiable—if I opened a business, I would be opening it downtown.  I had been working with Carolyn Robinson at her boutiques, Traditions and Vintage, and had come to love the dynamics of the area.  I knew that my concept for a mix of vintage and new items for the home would work best surrounded by the historic architecture and the unique appeal of the mix of storefronts, restaurants, cultural venues and professional offices.
Some six years later, here we are at 125 Franklin Street—having started at 117.  We had the opportunity to buy the building from Ray Balthrop—owner of Neblett's Framing Outlet—so we took the leap.  Our original (and still lingering) thought being we would covert the 2nd and 3rd floors into some of those much sought after urban apartments.  Well, that hasn't come to fruition as yet, as it seems it would be less expensive/disruptive to build 6 free standing homes than to renovate one 130 year old building!  But hope springs eternal and we continue to research possibilities for feasible renovations.
In the process of building my business and learning about codes, I became very active with the Downtown District Partnership and their business & property owners' committee (aka:  the Downtown Clarksville Association).  I found that I really enjoy being an advocate for our historic downtown, as do many others.  As a result of these volunteer efforts, I've become friends with some very smart, talented and creative people.  Clarksville is loaded with folks who have dedicated many hours beyond their "work" life to the preservation, promotion and development of this city and I feel very fortunate to be part of that circle.  I've had invaluable experiences—good and bad—but lessons were learned from them all.
I'd like to use this forum to share some of my experiences, as well as my hopes and dreams for this city on two rivers.  I hope you'll enjoy what I have to share and that you will share your thoughts with me as well.