Clarksville, TN – On January 25th, 2010, around 11:24am, officers responded to a shots fired call in  Lincoln Homes At 11:28am, a second call was received that advised that a subject had been shot at 18 C Lincoln Drive in Lincoln Homes.
Officers found Vincent Ventron Perry, 25, of Clarksville, deceased inside the apartment, with an apparent gunshot wound to the head. 
Steven Taylor Anderson, 21, of Clarksville was identified as a suspect, but had left the scene before officers arrived.  He was picked up from a Southern Drive address around 11:43am, taken to the Major Crimes Unit, and interviewed.
He gave a statement admitting that he shot his friend Vincent Perry in the head, and that it was an accident while he was playing with the gun. Anderson had blood on his hands and clothing.
Steven Anderson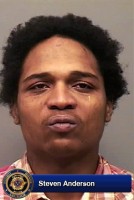 Name: Steven Taylor Anderson (B/M)
DOB: 9-8-89
Given Address: Clarksville, TN
Booked Into: Montgomery County Jail
Charged With: Criminal Homicide. 
Bond: Being held without Bond.
Detective Tim Anderson is the lead investigator.
Anyone with information can contact the TIPSLINE, 931-645-8477.