APSU Men's Tennis

Clarksville, TN – Austin Peay State University men's tennis team worked to a 6-1 win, Monday, against Kennesaw State at the Austin Peay Tennis Courts.
Despite a cold wind, the Govs were able to sweep the doubles point and win five of six singles matches. It was the Govs fourth-straight win, improving them to 7-2 overall.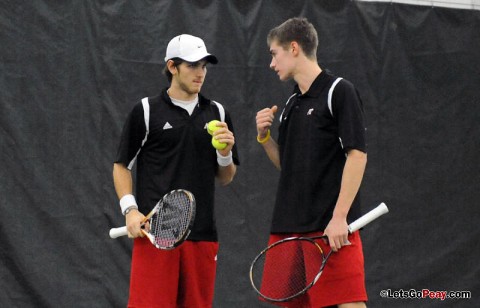 Sophomores Sean Bailey and Henrique Norbiato rolled to an 8-1 win at No. 1 doubles, while freshmen Jasmin Ademovic and Remi Calleja won an 8-4 match at No. 2. Sophomore John Storie and freshman Joao Pagan won, 8-2, at No. 3 doubles. It was the fifth time this season APSU swept the doubles matches.
"The men started slow, but I think we picked up throughout the doubles," head coach Malik Tabet said. "Overall, I'm satisfied with the way we handled our business today."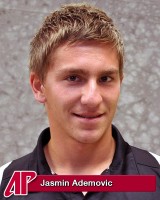 Ademovic returned to the lineup after being rested for the Govs' win at Tennessee State. He won in straight sets at No. 1, giving up two games in each set. Norbiato and Pagan each won three-set matches at No. 2 and No. 4, respectively. Pagan overcame a first-set loss, while Norbiato loss the middle set.
Storie suffered the Govs only loss, at No. 6, dropping the opening set in a super tiebreaker. From there, he won the second, but lost another tiebreaker, 8-4, at the end.
"When you play a super-tiebreaker in the first set, you never how the match is going to go," Tabet said. "Today, it went against us. Jasmin did a good job today. He was focused and played solid tennis."
The Govs now hit the road for their annual spring break swing to South Alabama for a week of training, highlighted by matches against South Alabama and BYU Hawaii.
Austin Peay 6, Kennesaw State 1
Singles competition
ADEMOVIC, Jasmin (APSU) def. Tyler Mills (KSUMTEN) 6-2, 6-2
NORBIATO, Henrique (APSU) def. Gianni Kubin (KSUMTEN) 6-1, 3-6, 6-1
BAILEY, Sean (APSU) def. Gokalp Ozdemir (KSUMTEN) 6-1, 6-1
PAGAN, Joao (APSU) def. Elliot Kahler (KSUMTEN) 4-6, 6-2, 6-3
CALLEJA, Remi (APSU) def. Ryan Spencer (KSUMTEN) 6-4, 6-2
Ryan Bouttell (KSUMTEN) def. STORIE, John (APSU) 7-6, 1-6, 8-4
Doubles competition
BAILEY, Sean/NORBIATO, Henrique (APSU) def. Simon Janik/Elliot Kahler (KSUMTEN) 8-1
ADEMOVIC, Jasmin/CALLEJA, Remi (APSU) def. Gokalp Ozdemir/Gianni Kubin (KSUMTEN) 8-4
STORIE, John/PAGAN, Joao (APSU) def. Tyler Mills/Michael Langel (KSUMTEN) 8-2