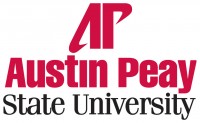 Clarksville, TN – Applications are being accepted for the Master of Arts in Teaching (M.A.T.) degree program beginning with the Fall I term at the Austin Peay Center at Fort Campbell (APCFC).
The M.A.T. provides opportunities for individuals who hold baccalaureate degrees to complete initial teacher licensure requirements and a master's degree concurrently. The Fort Campbell Center program is available to individuals who wish to teach at the secondary level. Programs in elementary and special education are available at the main campus.
Eligibility requires an undergraduate major or the equivalent in the licensure field and admission to the APSU College of Graduate Studies with a GPA of 2.75 and completion of GRE requirements.  The application for graduate school is available at www.apsu.edu/cogs. This degree program is not available to those who already hold a professional teaching license. However, anyone teaching on an alternative license in Tennessee may qualify for admission to the M.A.T. degree program.
The program is offered in a cohort format. The program consists of 10 courses, with two courses offered each term for five terms. Coursework is provided in face-to-face and online formats. Field experiences in public schools are required as part of the required coursework. At the end of the program, participants must either complete student teaching or teach on an alternative license and pass all required licensure exams to earn their teaching license.
More information is available by calling Dr. Barbara Peterson at 931-221-7696 or Dr. William Cox at 931-221-1412.