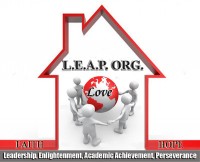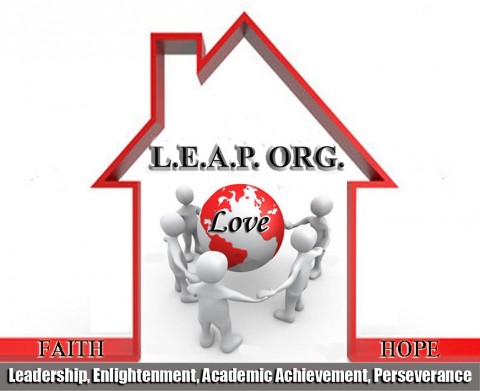 Clarksville, TN – The LEAP Organization is calling middle & high school students to begin the orientation/intake process to become a LEAP Intern. Beginning April 6th from 6:00pm to 7:00pm students will meet at the Emmanuel Family Life Center.
Each Wednesday students will be assigned an individual task to be completed by the following Wednesday. After completing the indoctrination process, students will earn the title of Intern and be eligible for scholarships, job shadowing opportunities, and additional incentives.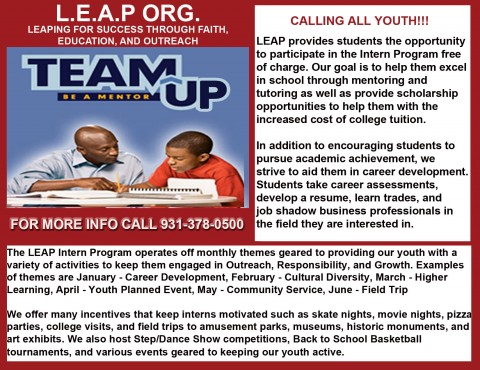 LEAP provides students the opportunity to participate in the Intern Program free of charge. Our goal is to help them excel in school through mentoring and tutoring as well as provide scholarship opportunities to help them with the increased cost of college tuition.
In addition to encouraging students to pursue academic achievement, we strive to aid them in career development. Students take career assessments, develop a resume, learn trades, and job shadow business professionals in the field they are interested in.
The LEAP Intern Program operates off monthly themes geared to providing our youth with a variety of activities to keep them engaged in Outreach, Responsibility, and Growth. Examples of themes are January – Career Development, February – Cultural Diversity, March – Higher Learning, April – Youth Planned Event, May – Community Service, June – Field Trip
We offer many incentives that keep interns motivated such as skate nights, movie nights, pizza parties, college visits, and field trips to amusement parks, museums, historic monuments, and art exhibits. We also host Step/Dance Show competitions, Back to School Basketball tournaments, and various events geared to keeping our youth active.
For more information please call 931-378-0500.