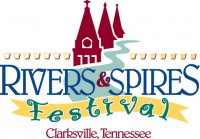 Clarksville, TN – It's hard to believe that another year has gone by and the biggest event of the season is less than a week away.
Next week, starting on Thursday the 14th, Rivers & Spires will kick off the three day festival with the Patchwork Premiere event from 4:00pm-8:00pm at Commerce and Hiter Street. And for those who have a need for speed, Mr. Speed will be paying tribute to the 70's favorite make-up clad band KISS. They will be on the Public Square Stage Thursday at 8:00pm. Then watch as the Historic Downtown Clarksville transforms into a shopping, dining and music filled destination. There will be an array of activities for kids and kids-at-heart. For those who have never attended, be prepared to have non-stop fun and be amazed at all that Clarksville-Montgomery County has to offer.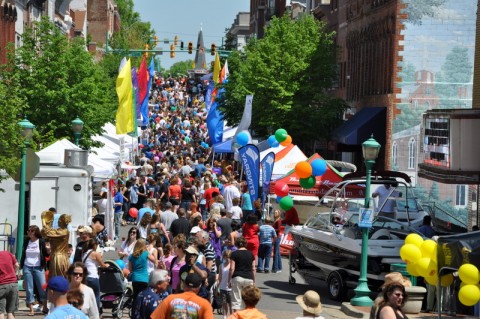 On one of the six stages during the festival you will find a band that caters to your taste in music. From country and rock to jazz and Christian, you can check out the complete line up on www.riversandspires.com. Be sure to make plans to see Here Come The Mummies at 9:00pm on Friday night and headliner Clint Black at 9:00pm on Saturday night. Both acts will be performing on Public Square Stage on their respective nights.
In between all that music and free activities, you are sure to get hungry, so good thing that at the festival you will find a multitude of food vendors that will be serving favorites like funnel cakes, onion rings, frozen lemonade and giant turkey legs among other treats. All of the other fine dining and casual restaurants famous for their cuisine will be open downtown if a sit down atmosphere is what you are looking for.
You simply cannot come to Rivers and Spires without getting some shopping in. During the fun-filled three days, you will have the opportunity to purchase unique gifts and novelties that you won't find anywhere else. From dresses, sunglasses and home décor, The Marketplace at Rivers & Spires Festival has everything you could imagine. Artisans from all over the country come to Clarksville to show off and sell their handmade artwork, jewelry and woodwork in the Artz Galore area. Take time to browse the booths in search of the special something to take home as a souvenir from your Rivers and Spires adventure.
Before you get Downtown, be sure to sign up for the text club. Text SPIRES to 68255 to get all of the up to the minute information about what is going on during the festival. Messaging and data rates may apply.
The Rivers & Spires festival hopes to see you Downtown next week enjoying everything there is to offer. Visit us online, become a fan of us on Facebook and follow us along on Twitter @riversandspires.