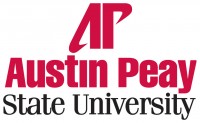 Clarksville, TN – Dr. Minoa Uffelman, assistant professor of history at Austin Peay State University, tried not to smile last week when asked if her students would put on a strong showing at the annual Phi Alpha Theta History Conference at Murray State University that weekend.
"Hopefully we'll win something," she said.
That was her way of being humble. The University's PAT chapter, which Uffelman advises, was twice named as the "Best Chapter" in the country. The organization attracts some of the campus' brightest history students, so it came as no surprise last weekend when two of its members took home the conference's top awards.
Senior Jennifer Montgomery won Best Undergraduate Paper for her work, "Women Airforce Service Pilots and The Quest for Militarization."  
"My paper was about the Women Airforce Service Pilots (WASP) who flew military aircrafts in the U.S. during World War II, and it focused on their formation and efforts to become militarized, which eventually led to their deactivation," Montgomery said. "I was very surprised when they called my name for the award because there were a lot of great papers at the conference, and to know that professors ranked my paper at the top makes me feel very proud."
J. Tomlin, a master's student in the APSU military history program, won Best Graduate Paper for "Loyalty, Identity, and Authority: An Analysis of Thomas Foxcroft's Sermon on the Accession of King George II." Tomlin won the same award at last year's conference.
"My paper dealt with colonial New England, specifically it was an analysis of a sermon by Thomas Foxcroft of Massachusetts in 1727. I mostly looked at it for larger political and social meaning," he said. "My reaction from winning the award for best graduate paper two years consecutively? I'm honored. Most colleges have Phi Alpha Theta chapters, but the variable that explains Austin Peay students' successes in regional competitions is the guidance of Dr. Minoa Uffelman, who has continually placed a high priority on the professional development of her students; every accolade we receive is equally her own."
More than 35 students from eight universities presented papers at the conference. Eight APSU students attended the daylong event, thanks to funding provided by the University's Office of Student Affairs, and five of those students were asked to present papers. In addition to Montgomery and Tomlin, those students included Deanna Carter, "Faces of the Past: The Cultural Syncretism of the Fayum Mummy Portraits," Vandy Watt, "The Nameless Victor" and Paige Williams, "The Aftermath of the Black Death."
During the conference, the students also attended a luncheon with speaker Constance Alexander, who talked on "Kilroy Was Here: Children on the Home Front in WWII." They also attended a banquet where the eminent Holocaust expert Christopher Browning delivered a speech.
For more information on the University's PAT chapter, contact Uffelman at 931-221-7704.