Rising Gas Prices drive demand for Fuel-Efficient Vehicles, resulting in manufacturer's Best Month Ever
Clarksville, TN –  When Sidney Johnson purchased a fledgling Hyundai franchise in 1991 and welcomed it into the Wyatt-Johnson family, a gallon of gas cost $1.14. Two decades later, gas costs three times as much and the Wyatt-Johnson Auto Group recently marked the 20th anniversary of their partnership with the auto maker with the brand's highest monthly sales to date.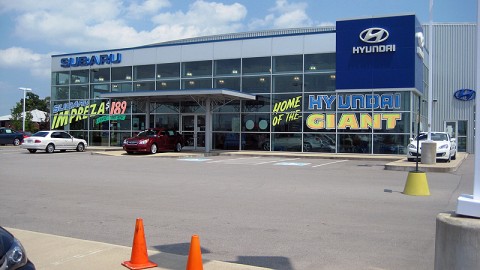 There has been a recent demand for smaller, more fuel-efficient cars due to the rising gas prices nationwide (the national average for a gallon of unleaded gas is $3.73 a gallon – almost a dollar more than the average for the same time a year ago). Clarksville, too, has been feeling the strain of higher fuel costs – as a gallon of gas downtown will cost you $3.68. 
"These rising pump prices have led consumers towards more eco-friendly vehicles from makers like Hyundai, a brand that places strong emphasis on fuel-economy", says Katherine Johnson Cannata, Dealer Principal at Wyatt-Johnson. "In fact, the new Hyundai Elantra, which gets over 40 mpg highway, is so hot we have a waiting list and are selling them right off the truck."
As a result, March 2011 was Hyundai's highest ever sales month in the auto-maker's history – and overall the brand is up 32% compared with the same period last year, with vehicles like the Elantra and the Sonata Hybrid leading the way.
"It's simple. American car buyers want to put great-looking cars that get great fuel economy in their driveways", says John Krafcik, the CEO of Hyundai Motor America.
The same rings true for Clarksville consumers as well.
About the Wyatt-Johnson Automotive Group
With more than 60 years in the automobile business, the Wyatt-Johnson Automotive Group is proud to be the premier dealership in Tennessee. Today the family-owned business is led by Sid Johnson's children, Sidney Johnson and Katherine Johnson Cannata, and offers Buick, GMC, Subaru, Hyundai and Mazda new vehicles as well as and certified pre-owned vehicles. Comprehensive services also include repair and maintenance, parts and accessories, and auto-financing. 
Stores are located at 2425 and 2600 Wilma Rudolph Blvd and at 809 Kraft Street (Wyatt-Johnson Auto Credit) in Clarksville, Tennessee. Visit the website at www.WyattJohnson.com.