Clarksville, TN – As of 11:00am, fewer than 500 customers are without power.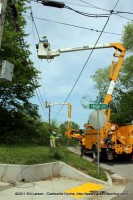 The Eastern Hills area has been restored.  Addresses include; Audubon Woods, Cherokee Trail, Merritt Drive, Haynes Street.
Another important note:  This morning, we received a call from a family on Evans Road who had medical equipment that requires power. We already had 6 crews in that area and were able to respond quickly.
We encourage any customers who have emergency needs to call us. Our crews are doing everything they can to restore power to everyone, but we do prioritize these types of situations, when at all possible.