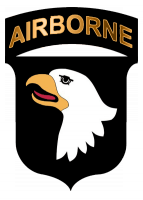 Fort Campbell, KY – It's the third flight of the day that brings home 247 Soldiers with the 2nd  Brigade Combat Team home just in time for Easter Sunday with their families.  The excitement was in the air as the crowd spotted the airplane in the sky as it decended to Campbell Army Airfied Saturday evening. 
As the plane made it's way in front of the waiting crowd, there were many cheers and shouts that they are now home.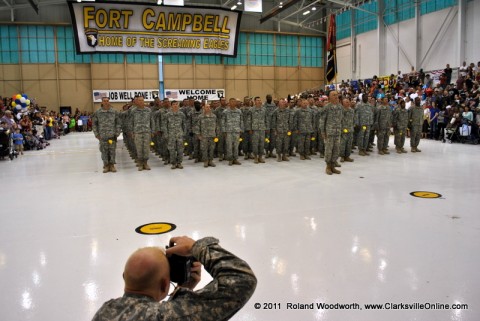 As soldiers stepped of the plane and made their way toward the hanger, they were greeted by some of the wounded soldiers who gathered to welcome them home. 
Once inside,  Brigadier General Jeffrey N. Colt welcomed everyone home in a short speech to the soldiers. Afterwards everyone was allowed 15 minutes of family time before heading back to their unit to turn in their gear.
Lt Clayton Hammer was greeted by his parents Rick and Paula Hammer along with his grand parents Richard and Dorthy Hammer, Aunt and Uncle Calvin and Ruth Guthridge, and family friends George and Ashly Pereira and John Rogers who all made a long journey to attend the Welcome Home Ceremony.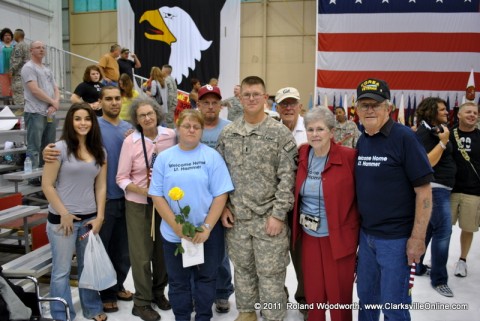 Another very excited family member, Sarah Vaden was so excited to have her husband CPT Bryan Vaden home as well. The Vaden's will soon be heading to ECU where he will be a  ROTC instructor. Sarah is hoping to find time for a little sun on the beach in the Bahamas while on leave.
The next scheduled flight is set to arrive at Campbell Army Airfield today at 11:55am. If you wish to attend a Welcome Home Ceremony, check the flight schedules online, as times are subject to change at any time. When arriving to Fort Campbell, enter via Gate 7; if you don't have installation stickers on your vehicle, you will be required to get a visitor pass. From there just follow the signs to the ceremony parking. Waiting buses transport the Family members safely to the hanger.
Video
Photos