Clarksville, TN – In recognition of the Civil War Sesquicentennial, the Roxy Regional Theatre is currently staging a production of the Frank Wildhorn and Gregory Boyd musical, The Civil War. This has to be one of the best of the many shows I have seen at the Roxy Regional Theatre.
Drawing on letters, diaries, firsthand accounts, and the words of Abraham Lincoln, Frederick Douglass, and Walt Whitman, the musical covers the enormous emotional landscape of the most difficult test our nation has ever endured. The Civil War musical puts a human face on the greatest tragedy of American history and passionately asks us to consider our beliefs about freedom, honor and faith.
The story is told through 27 songs which follows our nation through the succession of the Southern states, through to the reunification of the union. Some of the song gave me chills as I heard them for the first time.. The songs are that beautiful.
During the conflict around 620,000 Americans lost their lives; with brother fighting brother in battle. As the lines from the opening songs of the production relate "Brother My Brother, One Blue And One Grey, Will Meet Upon A Quiet Field, The Morn Of Judgment Day"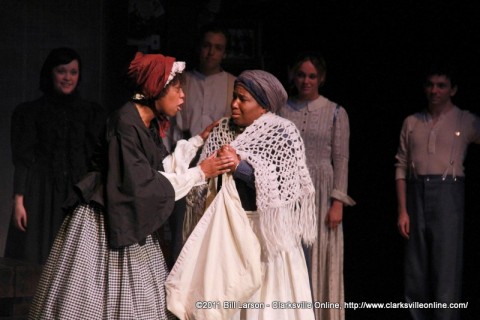 At the start of the war young men on both sides were sure that the war would quickly be over, one soldier sings, "I will cut a dashing figure, I will make the ladies swoon, I'll be back by fall to kiss'em all." another soldier jumps in,"If the war don't end too soon."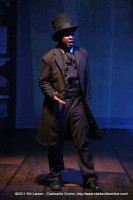 The divisive issue of slavery is touched upon repeatedly during the show with appearances by Fredrick Douglas, and several slaves whose stories are told in several of the songs. One particularly evocative moment was when two slaves on a platform are moved apart as they stretch their arms out to each other in longing. In another a slave tries to buy her freedom, "My dearest husband: If this letter finds you before I do, know that I am on my way. I tried to buy myself from Mr. Jim, as we planned, but he took all the money you sent and told me I would only get free on the point of a bayonet. So I've resolved to run away…"
Battles are a large part of the show, the sets are lit in reds and orange with smoke obscuring parts of the action, with sabers flashing, and soldiers leaping, running, falling, and rolling around the stage.
The sets are absolutely gorgeous, with subtle lighting, with still images and videos projected on a screen behind the action. Often you would see the person the actor is portraying as they tell you about their lives. It is amazing how the Roxy utilizes space. In one scene a soldier sits at a camp fire with trees on either side. In another you can see a confederate camp. I can see the use of rear projection continuing to be a big part of future productions. It enables the small Roxy stage to be as big as the world.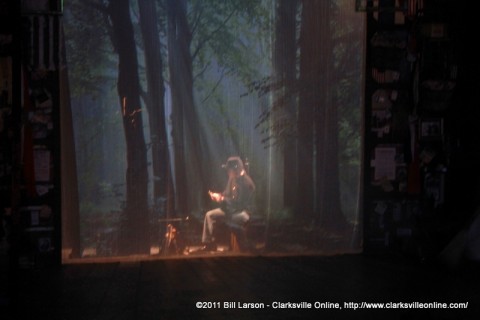 The costuming is great, Union and Confederate uniforms, Civil War era gowns, slaves in traditional garb. This helps with the immersive feel of the production.
The singing was perfect, full of emotional depth and subtle nuances. I have listened to the cast album and I think the Roxy performances is so much better. It could help that I was able to see the performance as the actors sang the songs, but I don't think so.
The roles the actors were portraying were for the most part unidentified during the performance and in the program they were only identified as the ensemble, but their performances were spot on. Each one had songs where they stood out from the pack. During the opening performance the audience erupted after the performance of the song someday featuring Roslyn Seale and Jesaira Glover. Rendell DeBose is a vocal powerhouse. Matthew Guy Magnusseon was a stellar addition to the Roxy. Everyone deserves a job well done for their acting on this show.
Perhaps it was simply cosmic humor. But both Abraham Lincoln and his wife Mary Todd were on hand for the opening of the Civil War musical at the Roxy Regional Theatre. They were in a theatre on Good Friday waiting to see a show. Luckily history didn't repeat its self.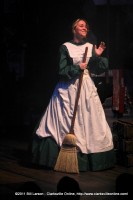 This show is well worth the price of admission, and I plan on seeing it several more times before the run is done. You should as well! The show runs through May 21st with a Saturday matinee on May 14th.
The Civil War musical was written by Frank Wildhorn, Gregory Boyd and Jack Murphy, and features music by Frank Wildhorn. It was originally produced on Broadway by Pierre Cossette, SFX Theatrical Group & Bomurwil Productions, Kathleen Raitt, Jujamcyn Theatres. The Roxy production was directed and choreographed by Tom Thayer. The Civil War is being presented through special arrangement with Music Theatre International (MTI).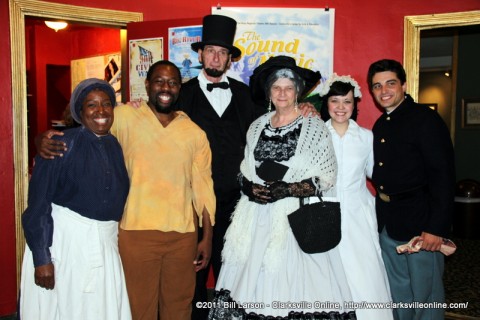 Photo Gallery
Cast
Bryan Benware
Ryan Bowie
Rendell Debose
Jesaira Glover
Brianna Hertzberg
Travis Kendrick
Matthew Magnusson
Keith Panzarella
Michael Quinichett
Roslyn Seale
Jabriel Shelton
Kendall Anne Thompson
Christopher Wren
Voice of Lincoln …………………………….. Brandon Meeks
Voice of Auctioneer ……….………..……….. Ashton Crosby
Musical Numbers
ACT I
"Brother, My Brother"
Bryan Benware
Through the poetry of Walt Whitman, we are led back to the roiling emotions and questions of the period and introduced to the "world of the piece" by a Union officer.
"A House Divided"
Keith Panzarella, Matthew Magnusson, Christopher Wren, Kendall Anne Thompson, Ryan Bowie, Bryan Benware
War separates kin, husbands and wives, and countrymen, as illustrated through the ordeals of two brothers, a young married couple and two officers.
"By the Sword / Sons of Dixie"
Company
The soldiers of both the north and south, fresh out of "Boot Camp," bristle with the bravado of the untested on the eve of the First Battle of Bull Run.
"The Peculiar Institution"
Jabriel Shelton, Rendell Debose, Jesaira Glover, Ensemble
A euphemism for slavery and its economic ramifications, the South's "peculiar institution" was a phrase often used in defense of slavery.
"If Prayin' Were Horses"
Michael Quinichett, Jesaira Glover
A married slave couple share a final moment together when they learn they are to be "sold apart."
"Missing You (My Bill)"
Kendall Anne Thompson
The young wife of an absent Union officer writes to her husband of her daily, lonely struggle to hold their family together.
"Judgment Day"
Ryan Bowie, Bryan Benware, Ensemble
A battle-weary Confederate Captain faces the consequences of the field decisions he makes, on both the lives of his men, and the condition of his conscience.
"Virginia"
Ryan Bowie
A Captain in General Lee's fabled Army of Northern Virginia, wistfully remembering a time gone by, sings an anthem of patriotism for the "country" he loves.
"Freedom's Child"
Rendell Debose, Jabriel Shelton, Ensemble
Based on the words of Frederick Douglass, the slave turned statesman, the impatient voice of Freedom cries out to be heard.
"Tell My Father"
Matthew Magnusson
A young Northern infantryman, mortally wounded in the war's first major encounter, begs his best friend to assure the dying boy's father that he acquitted himself with honor and upheld the family name. He lived as a boy and died as a man.
"Brother, My Brother" (Reprise)
Bryan Benware, Ryan Bowie
"I Never Knew His Name"
Brianna Hertzberg
A nurse weeps under the weight of the nameless hundreds of young men she has seen cut down in the first bloom of life.
"Father, How Long?"
Michael Quinichett
A weary runaway slave turned Union gravedigger laments his people's lot as he digs yet another grave and appeals to Heaven for an answer to his question.
"Someday"
Roslyn Seale, Jesaira Glover
Sustained by an unshakable faith in the Goodness of God, a plantation slave woman extends the promise of freedom to the young slave children gathered around her … someday!
ACT II
"Judgment Day" (Reprise)
Company
"How Many Devils?"
Company
The brash young soldiers we met in "Sons of Dixie / By The Sword," dispirited and bewildered by the bloody realities of war, have "seen the elephant" and long for home.
"I'll Never Pass This Way Again"
Keith Panzarella
Everyman's lament at not having noticed the "ordinary days" until it's too late.
"A Candle in the Window"
Brianna Hertzberg, Kendall Anne Thompson, Jesaira Glover
Lydia, a domestic servant at the White House, contemplates President Lincoln, whom she sees every night on her way home from the White House, "a figure in a chair, always sitting there, quiet as a prayer."
"The Day the Sun Stood Still"
Ryan Bowie, Bryan Benware
This song is based on the writings of a Southern officer named Henry Kyd Douglas, an aide to General Stonewall Jackson. He was in a ferocious battle where it seemed to him that the day lasted forever (as if "the sun would never go down" to bring an end to the fighting).
"Prayin'" (Reprise)
Jesaira Glover
"River Jordan"
Jabriel Shelton, Ensemble
A group of slaves, in the privacy of the "quarters," sing hopefully of their deliverance.
"Regimental Drummer"
Matthew Magnusson, Travis Kendrick
A war-weary Confederate soldier draws the strength to carry on from the memory of his regiment's fallen drummer boy.
"Sarah"
Christopher Wren
Based on the touching letter to his wife, Sarah, from Union soldier Sullivan Ballou on the eve of battle, we hear the haunting pledge of undying love.
"The Honor of Your Name"
Kendall Anne Thompson
The young wife we met in "Missing You (My Bill)" learns of her husband's death and writes him one last letter.
"Northbound Train"
Matthew Magnusson
A young Union Private writes home of the discoveries he's made: the horrors of war and the kindred spirit of all men.
"Last Waltz for Dixie"
Ryan Bowie
Our "Virginia" Captain exhorts his men to do the undoable on the eve of the Battle of Gettysburg.
"The Glory"
Bryan Benware, Ryan Bowie, Ensemble
A closing anthem in which both armies state their cases for waging this bloody war to the bitter end, interrupted by and astonishing angel who descends to the field of battle to take the fallen home.
About the Company
BRYAN BENWARE is very excited to be making his Roxy debut. He has been seen in recent productions of You're a Good Man… as Charlie Brown, CB in Dog Sees God, the Padre in Man of La Mancha, and Ernie in Rumors. A Graduate from Missouri State University, he's very happy to be back in the Midwest and in this beautiful area. Thanks to my family for all their support and love. And to my fiance, Steph, for keeping me out of trouble. Love you!!
RYAN BOWIE has made Clarksville his home, moving from NYC in January 2011, and is excited to return to the Roxy stage for the 28th season. Most recently seen as William Clark in Bea(u)tiful in the Extreme., Ryan's other past Roxy credits include Hamlet (Barnardo/Rosencrantz), Ain't Misbehavin' (Director/Choreographer), Once Upon A Time, A Christmas Carol, Around the World in 80 Days, Dracula (Jonathan Harker), Into the Woods (The Baker) and Forever Plaid (Jinx). Other professional credits include Jesus in Godspell and Hamilton in the NYC premier of Dotty Dot: A New Children's Musical, Freddy in My Fair Lady (Midwest), Jonas in The Giver (Chicago), Ryan in High School Musical (Midwest), Jack Chesney in Charlie's Aunt (Midwest), Dick in Dames at Sea (Maryland), J. Pierpont Finch in How to Succeed… (New York) and Matt in The Fantasticks (New York – tour). Training: Frostburg State University – BA Theatre: Acting & BA Music: Vocal Performance. Special thanks to his very supportive friends and family. Stay up to date at www.ryanbowie.com.
RENDELL DeBOSE is excited to be returning to the Roxy Regional Theatre for The Civil War, following his debut earlier this season in Ain't Misbehavin'. Rendell has previously appeared as Jim in Big River at Prather Dutch Apple Theatre, Jim in Bubblin' Brown Sugar at Broward Stage Door Theatre, C.C. White in Dreamgirls at Alhambra Dinner Theatre and Judah in Joseph and the Amazing Technicolor Dreamcoat at Tulane Summer Lyric. Rendell would like to thank the cast for all their support. He would also like to thank God and all his family.
JESAIRA GLOVER is thrilled to make her debut at the Roxy Regional Theatre … woohoo, Tennessee!! Theatre credits include: Motormouth Maybelle in Hairspray, Sister Mary Hubert in Nunsense, Nell Carter in Ain't Misbehavin' and Phyllis Hyman in Sophisticated Ladies. Special thanks to Tom and Jabriel (thanks for looking out)!
BRIANNA HERTZBERG is honored to be a part of the Roxy for her first professional show. Credits include: Natalie/Ed in All Shook Up, Cinderella in Into the Woods, Fantine in Les Miserables, and Ado Annie in Oklahoma! Thanks to Mom and Dad for their love and support and to the cast for treating her like family. "Phil. 4:13."
TRAVIS KENDRICK is thrilled to be a part of this epic musical! He most recently appeared on the Roxy stage in Beautiful In The Extreme. Previous Roxy credits include: Hamlet (Guildenstern, Osric), Once Upon A Time (Wolf, Rumpelstiltskin, Flounder, et al), A Christmas Carol (Fezziwig, Christmas Present, et al), Around the World in 80 Days (Passepartout) and Dracula: The Musical (Arthur Holmwood). New York City credits include: Flappers and Filosofers (Clark, choreographer; Rag 'N Bone Theatre Company) and Dotty Dot: A New Children's Musical (director, choreographer, co-writer; Rising Sun Performance Company). Some other professional credits include: Peter Pan (Nibs, Gretna Theatre), High School Musical (Zeke Baylor, Maples Repertory Theatre), Big River (Ben Rogers, Loessin Summer Theatre), Anything Goes (Steward, Barksdale Theatre) and Ragtime (Harry Houdini, Pittsburgh Playhouse). Travis received his training at Point Park University's Conservatory of Performing Arts with a B.F.A. in Musical Theatre. www.traviskendrick.com
MATTHEW GUY MAGNUSSON is thrilled to be joining the cast of The Civil War at the Roxy. Past regional credits include Johnny Cash in Ring of Fire (Fireside Dinner Theatre, WI) and Carmela Calamari in Cooking with the Calamari Sisters (Downstairs Cabaret Theatre, NY). Tours include The George Street Playhouse's 09/10 Educational Tour and The Traveling Lantern's 2010 Educational Tour. In July he will be heading to the Mountain Playhouse in Pennsylvania where he once again pick up his guitar and portray the man in black in their production of Ring of Fire. Matthew would like to thank his family and Leah for their continual love and support.
KEITH PANZARELLA is thrilled to be appearing in The Civil War. He has previously been seen at the Roxy in Bea(u)tiful in the Extreme and Hamlet (Laertes). New York theatre includes Tess, A New Rock Opera (Angel-PCF best actor NOM), Case of the Blue Oyster Gang (Musician / Suzie), Sweeney Todd (Anthony), and is a member of the Grownup's Playground improv troupe performing out of the New York Comedy Club. He's been seen on screen as Josh in La Mancha Films' feature Weary Sun, and as Walter in Behind it All Films' pilot Let's Shoot Dirty. Keith is a proud graduate of The American Academy of Dramatic Arts. All the love to his family and friends for their continued support.
MICHAEL QUINICHETT Michael is thrilled to be doing another heart-wrenching Wildhorn musical, but now here in Tennessee! Originally from Columbus Ohio, he just finished playing Ken in an energy-packed production of Smokey Joe's Cafe in Fort Collins, Colorado, at their newly built Midtown Arts Center! Some of his favorite credits include The Full Monty (Prather tour), Jesus Christ Superstar, 25th Annual Putnam County Spelling Bee, Aida, and Little Shop of Horrors. After Civil War, Michael is going to the Big Sky Country of Montana to do Hairspray, Chicago, and Big River with the Fort Peck Summer Theatre. Enjoy the show!
ROSLYN SEALE is thrilled to be performing in The Civil War, following performances in Once Upon A Time and Ain't Misbehavin'. Past regional credits include Joanie in The Full Monty, Mrs. Pugh in Annie, Gospel Singer in Violet and Young Irene in Bubblin' Brown Sugar. Born and raised in Brooklyn, NY she has appeared in many New York shows including the 2009 International CringeFest, Pippin, and Anansi the Trickster Spider. She also appeared in the tour of Fire On The Mountain and is a singer on The Spirit of NY/NJ Cruise Line. Thanks be to God for his blessings, Mom for supporting me and to all my friends and family for always believing!
JABRIEL SHELTON is excited to be making his Roxy Regional Theatre debut with The Civil War. Past performance credits include High School Musical 2 (Chad Danforth) and Joseph and the Amazing Technicolor Dreamcoat (Dan/Country Soloist) with Woodland Opera House, Seussical: The Musical and Ragtime: The Musical with Civic Theatre West, and Big River with Sierra Repertory Theatre.
KENDALL ANNE THOMPSON is delighted to be returning as a member of the Roxy's company this season, following performances in, most recently, Bea(u)tiful in the Extreme (Sacagawea et al.), Doubt (Sister James), Hamlet (Ophelia), A Christmas Carol (Belle/Mary), Around the World in 80 Days (Aouda), SHOUT! (Green Girl) and Dracula (Vampire Girl). Other credits include: Jerry Springer: the Opera with SpeakEasy Stage Company; RENT (Joanne), Machinal (The Young Woman), The Quick-Change Room (Ludmilla), First Lady Suite (Amelia Earhart) with The Boston Conservatory; Alice in Wonderland (Alice), The Long Christmas Dinner (Lucia), The Man Who Came to Dinner (June Stanley) with James Whitmore and the Peterborough Players. She is a recent graduate of the B.F.A. musical theatre program at The Boston Conservatory. Thank you Roxy Regional Theatre for this wonderful opportunity, and a very special thank you to all friends, family and teachers for their love, prayers and support!
CHRISTOPHER WREN, a 2008 graduate of the American Musical and Dramatic Academy in New York City, is also a professionally trained saxophonist, guitarist, drummer and harmonica player. National tour credits include Chuckleball and Fame the Musical as Goody; off-broadway credits include God Loves My People Best as Herman Kaiser; and regional credits include Ben Rodgers in Big River and the Cat in the Hat in Seussical, as well as a lead singer in the inaugural cast of Celebrity Cruise Line's Solstice. Christopher is very excited to be making his debut on the Roxy stage this summer in The Civil War and is looking forward to returning in July in the Roxy's production of The Sound of Music.
TOM THAYER has been Managing Director of the Roxy Regional Theatre since its inception in 1983. Training includes Austin Peay State University and Lambuth College, and he is a graduate of the American Musical and Dramatic Academy, NYC. While living in New York, he worked as a public relations liaison for the Metropolitan Museum of Art, created and taught dance programs at the Dwight School and created and taught young dramatics for the Rhodes School. He is the founder of the Clarksville Theatre Guild, as well as the Roxy Regional Theatre, and has performed off-Broadway as well as throughout the South. With Artistic Director John McDonald, he created the Roxy's Professional Company and serves as a director of the Summer Drama Camp, which is sponsored in conjunction with the Clarksville-Montgomery County Parks and Recreation Dept.
JOHN McDONALD is the founder and Artistic Director of the Roxy Regional Theatre. A graduate of the American Academy of Dramatic Arts, as an actor John has worked with the New York Shakespeare Festival, Macbeth with James Earl Jones; Long Wharf Theatre, A Lion in Winter with Ralph Waite; and productions of Long Days Journey Into Night (James); Macbeth (Macbeth); Who's Afraid of Virginia Woolf? (George); and numerous others. As an instructor, he has taught theatre at the American Academy, The Rhodes School, The Dwight School, Hewitt, and is the creator of the Roxy Saturday Workshop, an acting program for young performers. Writing and production credits include, among others, Jekyll and Hyde, The Red Badge of Courage, Dorothy Dix: Speaks!, Nora Witzel:
Very Curious Fella, The Picture of Dorian Gray, All Quiet on the Western Front, Poe Unearthed and Headin' South, Goin' North for the Fourth Annual Clarksville Writers Conference.
ADAM KURTZ (Production Stage Manager / Company Manager / Sound Designer) is a native of Detroit, Michigan. He is a graduate of Wayne State University, where he received a BFA in Theatre in Design / Technology, specializing in Stage Management. This is his third season at the Roxy, and he is excited to be back. His previous Roxy credits include A Christmas Carol, CATS, RENT, The 25th Annual Putnam County Spelling Bee, A Streetcar Named Desire, Ring of Fire, Of Mice and Men, Forever Plaid, Into the Woods, Shout, Dracula, Around the World in 80 Days, Ain't Misbehavin', Hamlet and Bea(u)tiful in the Extreme, among others. While here at the Roxy, Adam has also had the opportunity and honor to function as the Sound Designer for numerous productions. He has also been able to function as the Lighting Designer from time to time. He steps into a new area this year as Projection Designer for various upcoming productions. Adam would like to thank Tom and John for this wonderful opportunity and his family (Mom, Dad, Matthew, Lucky the dog, Aunt Nancy & Aunt Karen) for all of their love, support and encouragement.