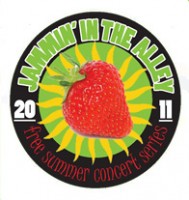 Clarksville, TN – The City of Clarksville together with U.S. Bank will soon be Jammin' in Strawberry Alley once again.  Join us on Friday, May 20th to kick off Jammin' in the Alley's fourth year in downtown Clarksville. This event takes place the third Friday of every month through October.
This month's free concert features Tennessee's premier Journey tribute band, Chain Reaction. This band began from a simple dare. While at a karaoke competition several years ago, a friend of the band's lead singer Ryan Christopher, dared him to sing Journey's song, "Don't Stop Believin'," to win the contest. Christopher was shocked how natural he felt performing the song and from that moment, he began his quest. He formed Chain Reaction with musicians Greg Vass, guitar/backing vocals; Tommy Hall, bass/backing vocals; Gene Powers, keyboards; Mike Seay, drums; and sound engineer Mark McCuiston.
"All of the US Bank Clarksville team is proud to again partner with the City of Clarksville in support of the great variety of events that help bring us together in fun, fellowship and celebration of the wonderful community that we all love," said US Bank Community President and District Manager Steve Kemmer and Joyce Norris, the bank's Senior Community Banking Officer and Vice President.
In addition to the live music, downtown restaurants will offer outdoor dining for Jammin' in the Alley patrons. The concert begins at 7:00pm, but you may want to come early and claim your spot as we expect a large crowd. Come ready to eat, dance and have fun!
Strawberry Alley will be closed to through traffic in front of City Hall starting at 1:00pm on the day of the event. US Bank's and Regions Bank's drive-through and City Hall parking lots will be accessible.
For more details on Jammin' in the Alley and a complete schedule, please contact the Clarksville Parks and Recreation at 931-645-7476 or visit www.parksafterdark.com.