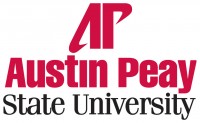 Clarksville, TN – In 2008, Mason Yost was a high school student unsure of where he wanted to go to college or what he wanted to study. That summer, the Cleveland, Tennessee, native ended up making a fateful visit to Clarksville to attend the Governor's School for Computational Physics at Austin Peay State University. That's where he met faculty members such as Dr. Alex King, chair of the physics department, and Dr. Jaime Taylor, dean of the College of Science and Mathematics.
"My interest in physics really began when I attended Governor's School," Yost said.
In the fall of 2008, Yost was accepted to the prestigious Carnegie Mellon University in Pittsburgh, but opted to study physics at APSU instead.
"Because I knew Dr. King and Dr. Taylor, choosing to attend APSU rather than CMU was an easy decision," he said.
In the last two years, Yost has excelled in the University's physics department, and his academic career reached a high note earlier this semester when he was recognized as an official Honorable Mention for the esteemed Barry M. Goldwater Scholarship. The scholarship, named for the late Arizona senator and 1964 presidential candidate, is awarded each year to 300 college sophomores and juniors nationwide who are pursing a degree in science or mathematics. Since 2006, 150 exceptional applicants not awarded the scholarship have been recognized with official honorable mentions.
When awarding the scholarships, a selection committee looks through thousands of applications and singles out those individuals who are working to make a significant contribution to his or her field of study. Yost submitted a proposal with his application that detailed the unique research he is currently conducting at APSU.
Last semester, Yost approached King about exploring physics problems outside the classroom. The two began work on a complex project to discover a particle pair that would be useful in measuring the strong force that holds together quarks – the subatomic particles that make up protons, neutrons and other exotic particles. 
"My research with Dr. King will be trying to find a supersymmetric quark pair that will be useful in finding out more about the strong force," Yost said. "Mostly, our work is computational in nature. What I'm doing with Dr. King is directly related to what I did at Governor's School."
Yost's proposal impressed the Goldwater Scholarship's selection committee, and he'll continue working on the project with King throughout the year. He might need to take a little time off this summer, however, when he goes to Vanderbilt University to conduct computer-modeling research on neutrino oscillation as part of the National Science Foundation's Research Experiences for Undergraduates program.
When he returns to the APSU campus next semester, he'll be the only student in the history of the APSU physics department to have been recognized by the Goldwater Scholarship's selection committee.
"It was pretty incredible that I got an honorable mention," he said.
For more information on Yost or his research, contact the APSU Department of Physics at 931-221-6116.