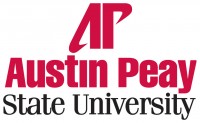 Clarksville, TN – On that first day, the reactions ranged from laughter to gasps of horror.
"A friend of mine heard screaming when people saw it," Tobey Lee, an Austin Peay State University art student, said. "It scared them."
That's no surprise considering it was a death-defying scene they were witnessing. A painter, dressed in white coveralls, balanced on his toes some 15 feet in the air, to paint a red circle inside the APSU Morgan University Center.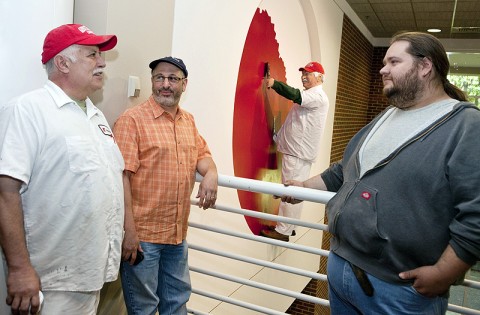 Luckily, the painter known as "Ivan" wasn't real. He's a mannequin that bares a striking resemblance to APSU painter Ivan Colon. The artificial Ivan, standing dangerously atop a small ledge, is part of a new art display created by students in APSU art professor Gregg Schlanger's Public Art class.
"Part of the class is learning to be a professional by creating a full proposal, a budget and how to plan something like this that's going to be in a public space," Schlanger said.
The new display, titled "A Hard Day's Work," was installed last month into a large, indented circle situated high on one of the University Center's walls.
"Lane Lyle (the architect), 10 years ago when he designed this building, in his mind that was a space for public art by students," Schlanger said. "President (Tim) Hall and I started talking about it, and we decided that was an appropriate use for that space."
The class, consisting of art students Colon, Lee, Melissa Cox, Rachel Evans Hyoung "Philippe" Kim, Sean McFadden and DL Zartner, spent the semester researching public art projects and coming up with a concept for the University Center space. They decided to create a likeness of one of their classmates, Colon, standing on the edge of the circle and painting it red.
"I guess it was because I've worked here so long, a lot of people have seen me and know me," Colon said. "When they decided to do that, I was OK with it. People say, 'Hey, that's Ivan.'"
With a budget of $847.00, the students purchased a mannequin and a mask-making kit to create the replica of the APSU painter and art student.
"If you put white hair and a white mustache on somebody, it's going to look like me," Colon said.
The Ivan mannequin was then anchored to the wall with a chain, while his toes were nailed to the ledge. On the day the display was installed, Lee hung around the UC to hear the public's reactions.
"I'm surprised how much everyone likes it," he said. "It turned out better than I thought it would."
The piece will remain on display in the UC indefinitely, but Schlanger said there's potential that new student art pieces could fill that spot every year.
For more information on the work or on the public art class, contact Schlanger at schlangerg@apsu.edu.