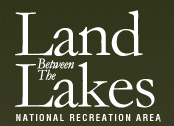 Golden Pond, KY – Severe storms moved across Land Between The Lakes once again last night.  As a result of the strong winds and pelting rain and hail, Forest Service staff members are assessing widespread damage to roads, campgrounds, and facilities.
While most backcountry areas and campgrounds remain open, Redd Hollow Backcountry Area and Rushing Creek Campground will not be open for Memorial Day Weekend, due to extensive storm damage. 
As of 8:00am Thursday morning, access to Energy Lake Campground is available from the north entrance on Road 134 only.  Currently, there are downed trees and power lines blocking Road 134 off US68/KY80 (south entrance).  Several areas of LBL are without power at this time.  Utility crews are working to restore power to these areas as quickly as possible, once residential and business areas in the surrounding communities have been restored.
Visitors to LBL are strongly encouraged to remain cautious of their surroundings. Many trees have become unstable due to saturated soil conditions and strong winds. 
Forest Service staff will continue assessing the widespread damage throughout LBL to determine the impacts of the storm. Please check the Alerts & Notices on our website at www.lbl.org for the most current conditions, or "Call Before You Haul" at 270-924-2000. LBL management and staff appreciate your patience and understanding as we work to make LBL safe for our Memorial Day Weekend visitors.
About The Land Between The Lakes
Land Between The Lakes is managed by the Forest Service, U.S. Department of Agriculture, in partnership with Friends of LBL, to provide public lands outdoor recreation and environmental education. Additional information is available on our website at www.lbl.org, or by calling 1-800-LBL-7077 or 270-924-2000.