APSU Men's Baseball

Clarksville, TN – Austin Peay State University's baseball team, the 2011 Ohio Valley Conference tournament champion, will travel to Atlanta, GA, 6:00pm (CDT), Friday, to face host Georgia Tech in NCAA Baseball Tournament regional play, the NCAA announced Monday.
The Governors (33-22), who earned the OVC's automatic bid by sweeping through the league tournament in Jackson over the weekend, will play host Georgia Tech (40-19) at Russ Chandler Stadium.  Georgia Tech, which earned an at-large bid, went 1-2 over the weekend in the Atlantic Coast Conference tournament.

This is the third straight year and 12th time overall Georgia Tech, ranked No. 9 in the most recent Collegiate Baseball poll, has been a tourney host. They also were one of five ACC schools awarded regional sites.
Mississippi State (34-23), a member of the Southeastern Conference, will face No. 29 Southern Miss (39-17), member of the Conference-USA, in the other first-round Atlanta matchup, slated for 2:00pm (CDT), in the double-elimination tournament. Both earned at-large bids to the tournament.
This is Austin Peay's fourth time to earn an NCAA tourney berth and the third in the new millennium. The Governors last tourney appearance came in the 2007 season in Nashville at Vanderbilt. The Governors lost twice to host Vanderbilt, including the memorable 2-1 11-inning Day 1 decision, but sandwiched their NCAA baseball tourney victory in between, an 18-7 verdict against Memphis.
This also is the second time APSU has played Georgia Tech in regional play. In fact, the Yellow Jackets eliminated the Govs from the 1996 tournament—APSU's first post-season appearance.
Meanwhile, Georgia Tech will make its 25th NCAA Tournament appearance in the last 27 years and its 27th NCAA appearance overall.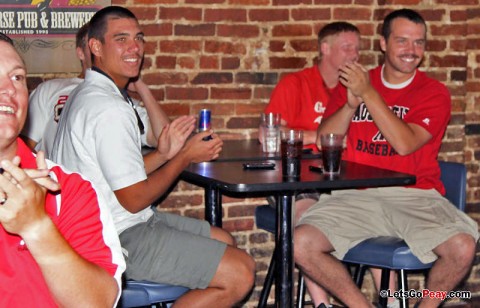 The 16 regional winners move on to the best-of-three super regionals. Those eight winners advance to the College World Series, which begins June 18th in Omaha, NE, at the new TD Ameritrade Park Omaha after 61 years at Rosenblatt Stadium.
The top national seeds, in order, are: Virginia, Florida, North Carolina, South Carolina, Florida State, Vanderbilt, Texas and Rice.
Austin Peay will be provided an allotment of tickets to sell for the regional. That information will be announced Tuesday when it becomes available or call 931-221-7761.
Individual adult single-game chairback tickets will be $12.00; adult single-game reserved bench-$10.00;  child/student single-game (reserved seating only) -$6.00; adult full-tournament book, chairback- $72.00 and adult/child/student full-tournament back (reserved bench)-$60.00.
In addition, all-session tickets may be purchased by the general public beginning 8:30am, Tuesday at www.ramblinwreck.com/tickets, in person at the Georgia Tech Athletic Ticket Office or over the telephone at 404-894-5447 or 888-TECH-TIX.
Seating capacity for Russ Chandler Stadium is 4,157.