Cumberland City, TN – For some good small town fun, come out to Cumberland City's Fourth of July Celebration. "Lighting up the Cumberland" is Saturday, July 2nd. The festivities start at 10:00am with the opening ceremonies, a mini-parade, and then the Lighting up the Cumberland parade.
Through out the day, there will be arts and crafts, a Civil War reenactment camp and food vendors. There is even a tractor and antique engine show. Around noon, the Motorcycle and Car Show judging will begin. Live music starts at noon and continues until 9:00pm.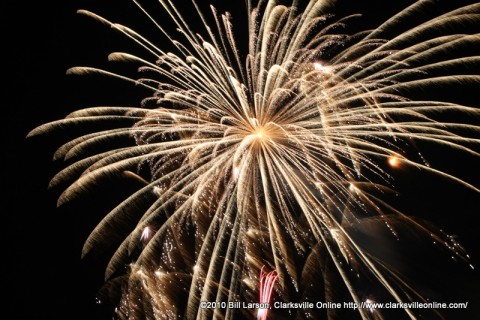 At 9:00pm, the "Lighting up the Cumberland" firework show begins. Across the Cumberland River from Cumberland City, a barge is used as a platform to launch the fireworks extravaganza. The 20 minute show has fireworks exploding high over the river.
Cumberland City puts on a spectacular Independence Day Celebration. If you have never been, it's well worth the trip. Come out for some good food and good music that ends with a bang.
To get there, head out Highway 48/13 past Liberty Park. Once over the bridge, turn right onto Highway 149 (across from the Dollar General). From there, it is about 14 miles to Cumberland City.
For more information, call 931-827-2000.