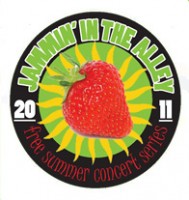 Clarksville, TN – The City of Clarksville together with U.S. Bank will be Jammin' in Strawberry Alley again on Friday. Join us August 19th for this month's free concert and to enjoy yet another "night market," featuring more than a dozen vendors from Clarksville's weekly Downtown Market. Vendors will be set up from 5:00pm to 8:00pm, and the concert will begin at 7:00pm.
This month's concert features the Next Level Band, who will be sure to keep you on your feet with a variety of cover tunes for all to enjoy.
Formerly known as Eclipse in the late 1990s, Next Level formed in 2009 with both Nashville and Clarksville artists; Curtis on lead guitar, Gregory on sax and keyboards, Thomas on drums, William on bass guitar and Renay as the featured female vocalist. Some of their favorite musical styles include Neo-Soul, R&B, Jazz, Pop and Soft Rock. They have enjoyed performing at many major festivals and benefits across the state, as well as local venues like at Austin Peay, Jazz on the Lawn, Business After Hours, the Front Page Deli, at reunions, weddings and more. Prior to their performance, youth and teens, who recently auditioned to be part of the talent for this year's Riverfest, will be showcased.
In addition to the live music and market vendors, downtown restaurants will offer outdoor dining for Jammin' in the Alley patrons. The concert begins at 7:00pm, but you may want to come early and claim your spot as we expect a large crowd. Come ready to eat, dance and have fun!
Strawberry Alley will be closed to through traffic starting at 1:00pm on Friday. Starting at 3:00pm, the lower employee parking lot of City Hall will be closed. However, drive-throughs for U.S. Bank and Regions Bank will be accessible, as well as the upper City Hall parking lot.
For more details on Jammin' in the Alley and a complete schedule, please contact the Clarksville Parks and Recreation at 931.645.7476 or visit www.parksafterdark.com.