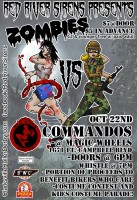 Clarksville, TN – Just in time for the spooky season, Clarksville Roller Derby's Red River Sirens present "Zombies vs. Commandos" on Saturday, October 22nd at Magic Wheels, 1671 Fort Campbell Boulevard. Doors open at 6:00pm and the action begins at 7:00pm.
Tickets are $7.00 at the door, with children aged 12 and younger admitted free with a paying adult. Attendees are invited to dress in costume.
The final event of the 2011 bout season, "Zombies vs Commandos"  will consist of two 30-minute periods with an intermission. Halftime entertainment will include a children's game led by The Nixies, the official "jeerleaders" for the Sirens, a kid's costume parade and trick or treating with the Sirens. There will also be an adult costume contest.
A beer garden will operate just outside the skating facility, and soft drinks and snacks will be available at the Magic Wheels concession stand.
In keeping with the modern roller derby custom of community support, Red River Sirens are teaming with Bikers Who Care. A  portion of the proceeds from the event will be donated to Bikers Who Care children's charities. Special guests will include kids from Camp Rainbow, one of the children's organizations supported by Bikers Who Care.
Clarksville Roller Derby formed in 2010 as the first active roller derby league in Clarksville. Red River Sirens are the League's first team, and are finishing their first season of competition. To qualify for the team, skaters are required to pass the minimum skills test established by the Women's Flat Track Derby Association (WFTDA). In addition to team and individual athletic training, skaters hold positions on various committees to keep the all-volunteer organization running.
Red River Sirens 2011 Season
| | |
| --- | --- |
| May 7th | Sintral Florida Derby Demons (South Daytona, FL) at HOME (L) |
| June 25th | So. Ill Roller Girls (Marion, IL) – Away (W) |
| July 16th | West Kentucky Rockin Rollers at HOME (W) |
| August 6th | Cape Girardeau (Cape Girardeau, MO) – Away (W) |
| September 3rd | Vette City Hot Broads (Bowling Green, KY) at HOME (L) |
| October 22nd | Clarksville Roller Derby — Red River Sirens Zombies vs. Commandos at HOME |
About Clarksville Roller Derby League

Clarksville Roller Derby League formed in 2010 as the first active roller derby league in Clarksville. The league currently has one team, Red River Sirens. CRD is a non-profit athletic organization run completely by volunteers, and operates under the guidelines of the Women's Flat Track Roller Derby Association (WFTDA).
Plans are currently underway for the second season of competitive action. The team's website is www.ClarksvilleRollerDerby.com.
About Roller Derby
Roller Derby is an American-made contact sport that originated in the early 1900s. The sport was highly popular in the 1970s when professional matches were televised and the sport shared a reputation for staged action. Today's game, which involves higher levels of strategy, is currently regaining popularity all over the country.
Teams are currently active in Nashville, Memphis and Knoxville. Roller Derby is experiencing a resurgence of popularity. Today's teams are all-female, self-organized, and feature athleticism and campy outfits. Men are welcome to participate as coaches, referees, announcers and in team support roles.
The sport is governed by the rules of the Women's Flat Track Derby Association (WFTDA), which sets the rules and determines the baseline skills required of participants. Visit www.wftda.com for more information.
About Bikers Who Care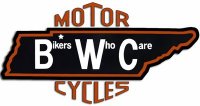 Bikers Who Care (BWC) is an organization of motorcycle enthusiasts dedicated to supporting children's charities.
To learn more, visit their website at www.bikerswhocare.org.