Clarksville, TN – On November 7th, 2011, around 11:15am, Officer Trevor Knight responded to a shoplifter call inside a store at Governors Square Mall, 2801 Wilma Rudolph Boulevard.
He was told by the loss prevention officer that a woman with a small child took items from the store and when he showed his credentials and attempted to apprehend her she fled from the store.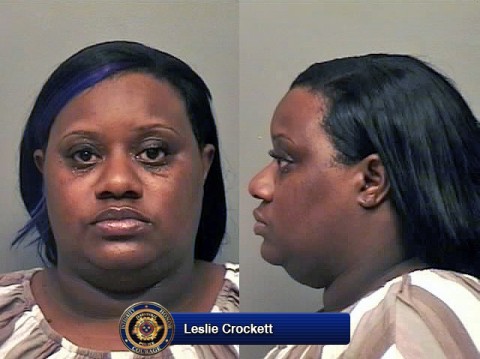 The woman got into a car, did not secure the child, estimated to be 3 – 5 years old, in a safety restraint, put the car in reverse almost hitting a witness, sped off, and ran a red light as she entered Wilma Rudolph Boulevard. The loss prevention officer was able to get the vehicle tag information as the woman left the scene.
Officer Knight ran the tag information and was able to identify the vehicle driver and owner as Leslie Denise Crockett of Clarksville TN. There were several taken warrants taken out for Crockett.
The vehicle Crockett was in: 1986 Pontiac Bonneville, Blue (a lot of rust), TN Tag 571 XMC.
Officers attempted to serve the warrants, but Crockett no longer lives at the last known address.
Leslie Crockett
Name: Leslie Denise Crockett (B/F)
DOB: 5/21/1978
Has Felony Reckless Endangerment, Three Theft Warrants (two were taken out yesterday, one was already on file), Child Abuse/Neglect, and Driving on Suspended License.