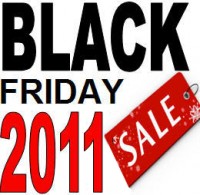 Trenton, KY – How do you avoid the hustle and bustle of Black Friday but still get some great bargains?  Try shopping in a small town in Kentucky.
There was only one shop open today in Trenton, but business was steady, and it does qualify as an independently owned small business; we were just a day early for Small Business Saturday, and we wanted to get some sale fabric –yes we REALLY did need more Christmas fabric. At least that's my story, and I'm sticking to it.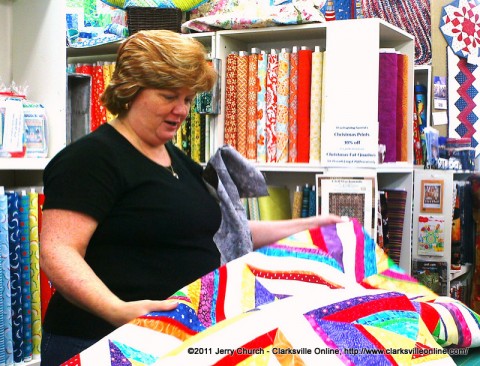 Sitting  outdoors on the windowsill of an empty building  enjoying the noonday sun was a middle aged neatly dressed gentleman, Mr. Phil Schafer and his well behaved shiny black dog Zoe.  Thinking Mr. Schafer was a part of the local fire department, after observing the logo on his jacket, I asked him if he was from Trenton. "No," he replied," our son lives in Clarksville, and Zoe and I are waiting for my wife who's in the quilt shop." I commented on his jacket insignia and he informed me that he had retired from his hometown fire department. Zoe allowed me to pet her head, probably hoping the ham smell left on my hands from breakfast, might mean a treat, and I left them to bask in the late morning sunshine and enjoy what was probably the first quiet time they had during this busy Thanksgiving holiday.
Quilt and Sew at Golden Threads is an old-fashioned store refurbished and painted a soft yellow and nestled between the Trenton City Hall and an empty old red brick storefront still waiting for another tenant to make it live again, much like the new pottery shop on the corner.  Just open the door and you are greeted with an explosion of colors, fabrics, and people and sounds that make you know that the folks inside are happy to be there.
I looked around and only saw old friends and the shop owner and her employees. "Who belongs to Phil Schafer and Zoe?" I asked.  A neatly dressed woman, about Mr. Schafer's age, popped out from between the stacks of fabrics and patterns."That's me!" She chirped.  Her name was Rose and she seemed really happy to be with fellow quilters while visiting in a strange town-quilters never meet a stranger,you know.
There was no pushing, shoving, angry voices or sadness here.  No pepper spray or grabbing places in line. What a change from the photos of  the early morning rush we had seen on the news.  No one camped out on the sidewalks last night, and there were still a few parking spaces across the street, since the grocery store/restaurant  is closed until Monday "Due to the Holiday".
Gayla  and  Abby were trying to match some fabric to quilt tops that I suspect are to be Christmas presents for someone special.  Lynn was buying Christmas fabric fat quarters, Lin  was measuring fabric for customers, and Sarah was at the cash register, making sure each customer got the best discount on her purchases.   The stream of customers was steady, but everyone was glad to offer help (including other quilters in the shop) with color matching and yardage estimates.  Denise Shivers, the shop's owner had time to greet each one of us personally as we entered, and we all felt we were given individual attention. There's only one checkout register, but no one was in a hurry to leave, and I don't remember anyone leaving without a bag of patterns or fabric.
When was the last time you knew who waited on you in a store?  When was the last time someone said "come back soon" and you knew they meant it?  Next time you have gifts to buy or a few dollars to spend, try spending Black Friday or Small Business Saturday in a small town or a locally owned shop. It's almost like going home again.