APSU Sports Information: Austin Peay Basketball

Memphis, TN – No. 21/22 Memphis connected on 15 three pointers, 11 in the first half, and ran away from Austin Peay State University, 91-60. Saturday night in non-conference basketball action played at the FedEx Forum.
The loss dropped the Governors to 0-9 on the season while Memphis improved to 4-2.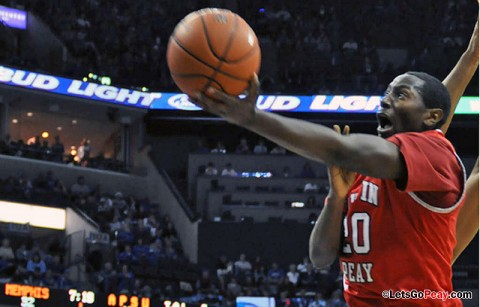 The Tigers left little doubt early that there would be no repeat of last season's overtime game. Memphis jumped out to an early 18-10 lead, all six baskets coming on three pointers, and at the 12:07 mark the Governors were down by 15, 25-10.
In total Memphis connected on an astounding 11-of-15 first-half three-point attempts (73.3 percent). In fact, the Tigers had more three pointers in the first half than the Governors had field goals (10). As a result, the Govs found themselves down by 25, 52-27, at halftime.
While Memphis was enjoyed scorching shooting (57.1 percent/32 of 56 from the field and 60 percent/15 of 25 from three-point range), the Governors continued their early season trend of struggling field-goal firing. For the seventh time in nine games APSU shot less than 40, making just 24 of 72 (33.3 percent) from the floor. For the eighth straight game, APSU made four or fewer three pointers, connecting on just 2-of-10 attempts.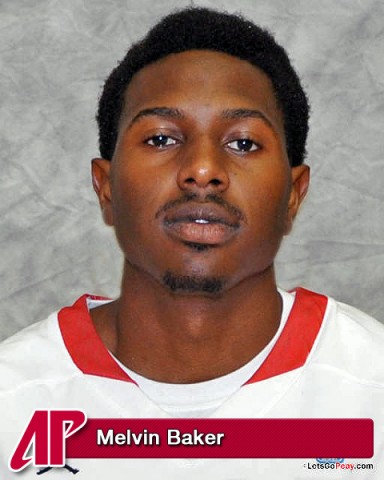 For the second straight game, senior forward Melvin Baker was APSU's only double-figure scorer, tallying 15 points on 7-of-14 shooting while grabbing seven rebounds.
Guard Will Barton recorded a double-double for Memphis, tallying 22 points while grabbing a game-high 13 rebounds. Freshman Adonis Thomas added 17, including going five-of-six from three-point range.
The Copies in a Flash APSU Player of the Game was Melvin Baker.
The Governors will have little time to regroup as they will play host to Arkansas State, 7:00pm, Monday in seeking that elusive first win.
Box Score
Austin Peay vs Memphis
12/3/11 7:30pm at Memphis, TN (FedExForum)
Austin Peay 60
 
 
 
Total
3-point
 
Rebounds
##
Player
p
fgm-fga
fgm-fga
ftm-fta
off-def
tot
pf
tp
a
to
blk
stl
min

10

TRIGGS, Will

f

2-9

0-0

1-2

4-4

8

1

5

1

0

0

0

28

20

BAKER, Melvin

f

7-14

0-1

1-1

2-5

7

4

15

0

5

1

2

30

25

CAMPBELL, Anthony

f

2-7

1-3

2-2

1-0

1

0

7

0

1

0

0

22

12

EDMONDSON, TyShwan

g

1-6

0-1

1-2

1-0

1

4

3

4

3

0

3

26

23

TERRY, Josh

g

4-11

0-0

0-0

3-0

3

1

8

1

1

0

3

31

01

CLYBURN, Jerome

–

1-7

0-1

0-0

0-0

0

3

2

3

1

0

0

15

11

GREER, Thomas

–

1-1

0-0

0-0

2-0

2

0

2

1

0

0

0

3

14

WILLIAMS, Alton

–

0-2

0-1

0-0

0-1

1

0

0

0

0

0

0

4

15

FREEMAN, Chris

–

2-7

0-0

2-2

2-1

3

2

6

0

1

1

0

18

22

LAWRENCE, Herdie

–

2-4

1-2

1-2

0-0

0

1

6

0

2

0

1

9

32

BLAKE, Justin

–

1-3

0-1

0-0

0-0

0

1

2

0

1

0

0

10

33

HASSE, Matt

–

1-1

0-0

2-2

1-1

2

0

4

1

0

0

0

4

TM

TEAM

–

–

–

–

3-6

9

–

–

–

–

–

–

–

 

Totals…………..

–

24-72

2-10

10-13

19-18

37

17

60

11

15

2

9

200

 

33.3%

20.0%

76.9%

 
Team summary:
 
FG
3FG
FT
 
1st Half:
 

10-34

1-4

6-7

 

29.4%

25.0%

85.7%

 
2nd Half:
 

14-38

1-6

4-6

 

36.8%

16.7%

66.7%
Memphis 91
 
 
 
Total
3-point
 
Rebounds
##
Player
p
fgm-fga
fgm-fga
ftm-fta
off-def
tot
pf
tp
a
to
blk
stl
min

11

WITHERSPOON, Wesley

f

2-5

1-2

1-4

1-4

5

3

6

2

2

0

2

22

32

SIMPSON, Stan

f

1-3

0-0

0-1

1-2

3

2

2

0

1

1

0

13

01

JACKSON, Joe

g

3-6

1-2

4-4

0-0

0

0

11

2

3

0

4

24

03

CRAWFORD, Chris

g

3-6

3-5

0-0

0-1

1

0

9

7

4

0

1

23

05

BARTON, Will

g

8-13

3-5

3-5

5-8

13

1

22

6

6

1

1

29

02

BARTON, Antonio

–

2-5

1-3

1-2

1-2

3

1

6

2

2

0

0

23

10

BLACK, Tarik

–

4-5

0-0

2-4

1-4

5

2

10

0

1

3

0

20

14

TSAFACK, Hippolyte

–

0-0

0-0

0-2

0-0

0

3

0

0

0

0

0

5

15

DRAPER, Trey

–

0-0

0-0

0-0

0-0

0

0

0

0

0

0

0

2

23

HOLT, Charles

–

1-2

1-2

0-0

0-0

0

0

3

0

0

0

0

2

30

STEPHENS, D.J.

–

2-2

0-0

1-2

0-3

3

0

5

1

0

0

0

13

31

LAIRD, Preston

–

0-0

0-0

0-0

0-0

0

0

0

0

0

0

0

2

35

THOMAS, Adonis

–

6-9

5-6

0-0

0-4

4

2

17

3

0

0

0

22

TM

TEAM

–

–

–

–

3-2

5

–

–

–

–

–

–

–

 

Totals…………..

–

32-56

15-25

12-24

12-30

42

14

91

23

19

5

8

200

 

57.1%

60.0%

50.0%

 
Team summary:
 
FG
3FG
FT
 
1st Half:
 

18-29

11-15

5-9

 

62.1%

73.3%

55.6%

 
2nd Half:
 

14-27

4-10

7-15

 

51.9%

40.0%

46.7%
| | | | | |
| --- | --- | --- | --- | --- |
| Score by Periods | 1st | 2nd | Total |   |
| Austin Peay | 27 | 33 | 60 | Record: (0-9) |
| Memphis | 52 | 39 | 91 | Record: (4-2) |
Officials:Joe DeRosa, Darron George, Bret SmithTechnical fouls: Austin Peay-None. Memphis-None.

Attendance: 16989