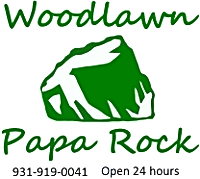 Clarksville, TN – As you drive out Dover Road just past the Clarksville City Limits you will find the Woodlawn Papa Rock Travel Center & Truck Stop, a veritable one stop shop meeting the needs of passenger cars, big trucks, RV's, and their drivers.
The facility is open 24 hours a day, and has a full service truck center; showers and large clean restrooms; in store food service including fresh hot pizza with a variety of toppings for dine-in or carryout, delicious Krispy Krunchy Chicken, and a complete breakfast featuring breakfast sandwiches and warm biscuits. They also have great coffee.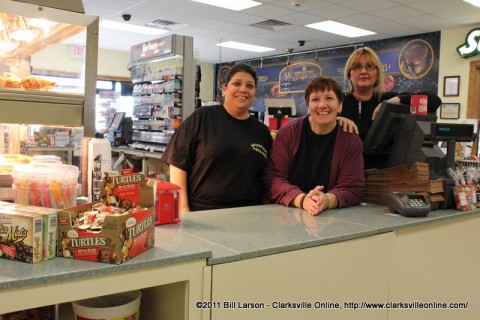 If you are looking for a more substantial meal, you have the choice of three restaurants at the Woodlawn Papa Rock Travel Center; Woody's Pizza which has some of the best bread sticks and chicken wings in the Clarksville area; a Subway Restaurant; and Becky's Country Cafe for that delicious southern home-style cooking.
The convenience store offers an incredible selection of items something Manager Jim O'Brien takes a special pride in, "We try to find things that are not otherwise available in our area, it may only be available in Florida or California, and I try to bring it to Tennessee." They also have your standard convenience store fare such as ice-cold beer, cigarettes, candy, soft drinks. For area sportsmen they have live bait, along with the necessary fishing and hunting licenses. The Staff could not be more friendly, they make you feel welcome the moment you come through the door providing professional service with an affable southern charm. They always have warm smile ready for you. Prices at the Woodlawn Papa Rock Travel Center are extremely competitive with other convenience stores throughout Clarksville.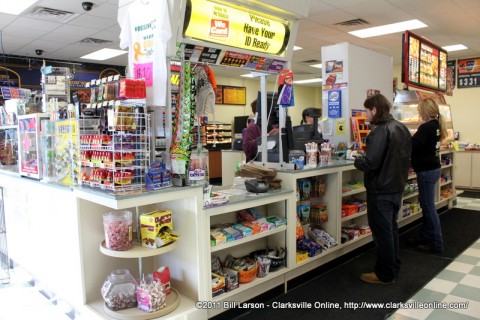 For most businesses this would about cover everything you need to know, but not in this instance.
Many businesses talk about giving back to the community but at the Woodlawn Papa Rock Travel Center, it's a philosophy they live by.
They hold Customer Appreciation Days on the 1st and 15th of each month which gives each customer a free medium coffee, or a 32oz drink. They hold Military Appreciation Days on the 5th and 20th of each month. They also throw a gigantic Summer Bash for their customers around the end of August with live music, inflatables, and great food.
The Woodlawn Papa Rock Travel Center supports the Clarksville Ladies Club; cancer victims Ashley Nemeth and Justine Troester of Justine's Journey; the Jackson Family, a military family whose home burned down; they are partners in education with Woodlawn Elementary School, the Stewart County High School booster Club, Northwest High School Athletic Program and the Yearbook, and the Clarksville-Montgomery County School System; American Cancer Society; the Military BBQ Fundraiser; and they support numerous sports teams throughout the area.
For Christmas the Woodlawn Papa Rock Travel Center is adopting eight families for the Christmas Holidays. You can help them expand this number by bringing in Toys, Serviceable Clothing, Food Donations, or even cash. On Saturday, December 17th from 9:00am to 11:00am Santa Claus is coming to Woodlawn Papa Rock Travel Center. You are welcome to bring the kids out for an early visit from Santa! Then stay and enjoy the fun and festivities. They will be giving out several golden tickets to special needs families on Saturday that will be redeemable with Santa at the Clarksville Riverwalk on Saturday Night.
Papa rock jumped up on board this year to help Gary Caudell in his mission to provide Christmas to area kids who are in need of toys. "The money the Woodlawn Papa Rock Travel Center provided helped us out a lot. we were able to add more locations to our itinerary this year," Caudell said. Mr. Caudell helps Santa distribute gifts to children across 4 states. "We greatly appreciate all they have done to help bring a great Christmas to kids in our area! Without organizations like Papa rock we wouldn't be able to do all we are currently doing in the community," he said.
For more information contact the Woodlawn Papa Rock Travel Center at 931.919.0041, or visit their Facebook and Web Site.
Photo Gallery
Map