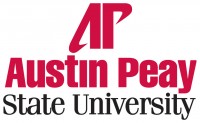 Clarksville, TN – As a Veterans Affairs financial aid counselor at Austin Peay State University, Elizabeth Stonerock was told she had a disgruntled student waiting to see her.

Walking out of her office in the Ellington Building to the lobby to meet with the student, Stonerock immediately was greeted with applause and cheers.

There was no disgruntled student. Rather, a lobby full of co-workers and APSU administrators awaited to congratulate Stonerock for earning the Patriot Award, presented by the Employer Support of the Guard and Reserve (ESGR).

She was nominated by fellow employee Jasmin Linares, a member of the Reserves.

"She has been supportive and understanding of my military career," Linares said of Stonerock in her nomination letter.

Retired Chief Warrant Officer 4 Carl E. Lambert, chair of ESGR's Tennessee division, said Linares' nomination letter spoke volumes of Stonerock's commitment to guardsmen and reservists.

"That speaks highly of you and highly of APSU," he said.

Stonerock, whose family has an extensive military service background, was given a Department of Defense Certificate of Appreciation and a Patriot lapel pin, placed on her by Linares.

For more information about ESGR, visit www.esgr.mil.



Sections
Education
Topics
APSU, APSU Ellington Building, APSU President, Austin Peay State University, Clarksville TN, Tim Hall