Santa Monica, CA – Radical Entertainment and GameStop (NYSE: GME) kick things into high gear with the announcement of an exclusive* pre-order bonus for PROTOTYPE® 2 — Sgt. James Heller's Bio-Bomb Butt Kicker ability.  Planned to launch April 24th, 2012 from Activision Publishing, Inc., a wholly owned subsidiary of Activision Blizzard, Inc. (Nasdaq: ATVI), North American fans who pre-order the game at GameStop between January 1st, 2012 and April 23rd, 2012 will unlock this alternate version of one of PROTOTYPE 2's unique, new viral-powered abilities, the Bio-Bomb.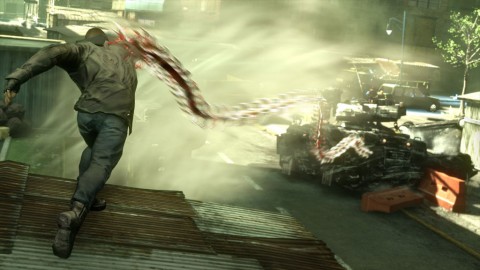 "Butt Kicker is a fun twist on Heller's already over-the-top new Bio-Bomb ability," said Ken Rosman, Studio Head, Radical Entertainment.  "Rather than just throwing enemies once Heller has infected them with the Blacklight virus; Butt Kicker allows Heller to drop-kick punt them across the map, turning enemies into projectiles that rain down devastation from above."
The sequel to Radical Entertainment's best-selling open-world action game of 2009, PROTOTYPE 2 takes the unsurpassed carnage of the original PROTOTYPE and continues the experience of becoming the ultimate shape-shifting weapon.  As the game's all-new infected protagonist, Sgt. James Heller, players will cut a bloody swathe through the wastelands of post-viral New York Zero with unparalleled locomotion, building up a vast genetic arsenal of deadly, biological weapons and abilities as they hunt, kill and consume their way toward the ultimate goal — to kill…Alex…Mercer!
To find out more about PROTOTYPE 2, follow us on twitter at www.twitter.com/radical_ent or check out www.prototypegame.com for the latest trailers, screenshots, special promotions and more!  And for the truly dedicated, go to www.facebook.com/prototype and join the PROTOTYPE Army — a community of over 360,000 (and growing) fans that receive constant updates from the team at Radical, and early sneak peeks at new information and assets.
PROTOTYPE 2 is currently in development for Xbox® 360 video game and entertainment system from Microsoft, PlayStation®3 computer entertainment system and Windows PC.  The game is currently rated "RP" (Rating Pending) by the ESRB, with an expected "M" (Mature — Content that may be suitable for persons 17 and older) rating.
About Radical Entertainment
In September 2011, Radical Entertainment celebrated its 20th anniversary in the business of creating hit video games, including 2009's multi-million-unit-selling PROTOTYPE, The Simpsons Hit & Run, The Incredible Hulk: Ultimate Destruction, Scarface: The World Is Yours and more.  We treat our properties with the reverence they deserve and gamers demand, and the commitment to our partners and fans continues to set us apart. 
Our Vancouver-based studio allows Radical Entertainment to bring the talent, tools and technology together to create entertainment that captures the world's imagination.  Owned by Activision Publishing, Inc., Radical is continually ranked as one of the best places to work in B.C., according to BC Business magazine and Watson Wyatt.  In 2006-2008 MediaCorp Canada ranked Radical as a Top 100 Canadian Employer, Top 10 Canadian Employer for Young People, and Top 20 B.C. Employer.  For more information, please visit www.radical.ca.
About GameStop
GameStop Corp. (NYSE: GME), a Fortune 500 and S&P 500 company headquartered in Grapevine, Texas, is the world's largest multichannel video game retailer. GameStop's retail network and family of brands include 6,627 company-operated stores in 17 countries worldwide and online at www.GameStop.com. The network also includes: www.Kongregate.com, a leading browser-based game site; Game Informer(R) magazine, the leading multi-platform video game publication; Spawn Labs, a streaming technology company; and a digital PC game distribution platform available at http://www.GameStop.com/PC.
General information on GameStop Corp. can be obtained at the company's corporate website. Follow GameStop on Twitter @ www.twitter.com/GameStop and find GameStop on Facebook @ www.facebook.com/GameStop.
About Activision Publishing, Inc.

Headquartered in Santa Monica, California, Activision Publishing, Inc. is a leading worldwide developer, publisher and distributor of interactive entertainment and leisure products.
Activision maintains operations in the U.S., Canada, the United Kingdom, France, Germany, Ireland, Italy, Sweden, Spain, Norway, Denmark, the Netherlands, Australia, South Korea, China and the region of Taiwan. More information about Activision and its products can be found on the company's website, www.activision.com.