Austin Peay Men's Basketball vs. Southeast Missouri
January 26th, 2012 | Tipoff: 7:00pm | Show Me Center | Cape Girardeau, MO

Cape Girardeau, MO – Southeast Missouri has been a surprise to everyone, except to themselves.

The Redhawks, who will play host to Austin Peay, 7:00pm, Thursday, finished strongly the 2010-11 season to earn an OVC tourney berth for the first time since 2007. Entering the season, they returned a quality cast, including 6-7 senior Leon Powell plus guards Marcus Brister and three-point specialist Marland Smith.

Then throw in newcomer Tyler Stone, the 6-8 Missouri transfer, and the 6-6 Marcus Porter, the Missouri State transfer along with the return of the junior redshirt sharp-shooting guard Nick Niemczyk, who missed much of last season with a knee injury, and the Redhawks' talent level dramatically has improved from Dickey Nutt's first season in 2009-10.

Stone is averaging 15.1 ppg and 6.9 rpg to lead the Redhawks. Smith is shooting 42.2 percent from three-point range while averaging 12.1 ppg. Powell is at 11.5 ppg, shooting a sterling 66 percent from the floor, while Niemczyk is averaging 9.1 ppg, including a 36.4 percent three-point field-goal shooting percentage.

As a result, SEMO sits in second place in the OVC race with a 5-2 mark.

Closely on their heels are the Governors, who are now 5-3 in the OVC race after a five-game winning streak that included a sweep of SIUE (80-67) and Eastern Illinois (76-64) last weekend. APSU is seeking its third straight road win.

In the weekend sweep, the Govs made it five straight games holding the opposition to less than 70 points, In addition, at Eastern Illinois senior guard TyShwan Edmondson snapped a six-game scoring slump as he scored 24 points on 9-of-18 shooting, including four three pointers.

That was important as both inside people, John Fraley and Melvin Baker, experienced foul troubles and were held in check. In fact, fellow guard Jerome Clyburn scored a career-best 18 points, including 12 of 14 at the free-throw line.
Governors Pardon
This is Austin Peay's 80th season of basketball.
Dave Loos, APSU's all-time winningest basketball coach, also is the OVC's alltime wins leader with 358 victories. He also has 440 career coaching wins.
The Dave Aaron Arena playing floor was named Dave Loos Court, Summer 2007. Loos is believed to be one of only three current Division I men's coaches who are coaching on courts that bear their respective names–Duke's Mike Krzyzewski and Syracuse's Jim Boeheim–are the other two. Valparaiso's Homer Drew, who retired after the 2010-11 season, had the floor named after him last season.
Since 1993-94, Austin Peay has finished no worse than fifth in the OVC standings.
Austin Peay has reached at least the OVC tournament semifinals in 13 of the last 17 years.
Austin Peay has made 27 straight appearances in the OVC tournament.
What You Should Know
The Series: This is the 46th meeting between the two clubs with Austin Peay holding a 31-15 advantage. APSU has won 12 of the last 13 meetings, including all three contests last season. The Govs won 78-60, back on December 2nd, 2010 in Cape Girardeau, MO, before rounding out the regular season a 75-52 home win, February 26th, 2011, in Clarksville. A few days later the Govs defeated SEMO, 76-60, March 3rd, in OVC tourney play in Nashville.
Deeper Meanings
What A Win Would Mean: The Govs would gain their ninth 2011-12 victory…it would be the Govs' season-best sixth straight win…they would improve to 9-13…it would push the Govs to three games above the .500 mark in the OVC at 6-3…the Govs would improve to 6-1 in January…it would be the Govs third straight OVC road win…it would be the Govs' fourth road win of 2011-12…it would make Dave Loos 32-15 all-time against SEMO…it would make Loos 8-1 against SEMO coach Dicky Nutt…it would be Loos' 442nd career coaching victory and his 360th APSU win.
What A Loss Would Mean: The Govs would fall to 8-14 on the season…APSU would slip back to one game over .500 in the OVC at 5-4…the Govs would fall to 3-9 on the road this season…the Govs would drop to 2-3 on the road in the OVC…it would make the Govs 31-16 all-time in the series…it would be Dave Loos' first loss to Dickey Nutt with the latter as SEMO's head coach…it would be head coach Dave Loos' 357th career loss and 304th Austin Peay defeat.
Clyburn Earns Award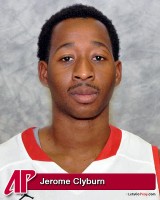 Junior point guard Jerome Clyburn was named the adidas® OVC co-Newcomer of the Week, Monday. For the week, the Orange Park, FL, native, averaged 11.0 points and 4.0 assists, while making 8 of 11 from the floor and 16 of 18 from the free-throw line.
At Eastern Illinois, Clyburn knocked down 12 of 14 free throws, which tied for the OVC's single-game best, and finished with a career-best 18 points. It was Clyburn's second-straight game in double figures after netting 12 points at SIU Edwardsville and dishing out a career-best seven assists.
Defense Mechanisms
In five OVC wins, the Govs have limited opponents to less than 70 points each time, with an average 45-percent field goal percentage. In fact, through seven league games, only Murray State has scored more than 70 points against APSU.
Steal Away
For a second straight game, Austin Peay recorded double digits in steals when it had 10 against Eastern Illinois, Saturday. The Governors had 11 against SIU Edwardsville, Thursday. It was the fourth and fifth times this season the Govs had double-digit steals.
TY Clips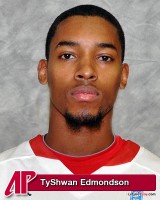 When TyShwan Edmondson tallied 24 points against Eastern Illinois it snapped a string of six straight games when he scored 10 points or less.
The Govs senior guard went 9-of-18 from the floor, including four three pointers, en route to his fifth 20-point game this season and 16th of his career.
Steal Your Face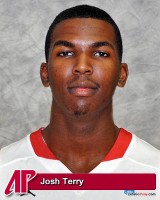 For the second time this season, senior forward Josh Terry was credited with five steals in the Govs' victory last Saturday at Eastern Illinois. However, teammate TyShwan Edmondson was just one behind him, making it the second time he had four single-game steals.
Terry is third (2.2 spg) and Edmondson (1.9) fourth in the OVC in steals. In just two seasons, both have climbed the Govs career ladder in the statistic, with Terry 18th (107) and Edmondson 22nd (100).
Twelve Up
When Jerome Clyburn connected on 12 of 14 free throws against Eastern Illinois, Saturday, it was the second time this season a Gov had made 12 free throws in a game. Josh Terry made 12 free throws at Morehead State, December 31st.
Finding The Touch
After winning for the first time this season shooting below 45 percent (43.8 vs. Jacksonville State), the Govs posted back-to-back 50-percent or better shooting nights (50 percent vs. Tennessee State and 54 percent at SIU Edwardsville).
Although they failed to shoot 50 percent against Eastern Illinois, the Govs still shot an acceptable 46.3 percent (25 of 54). APSU is shooting 47.5 percent from the floor during OVC play, including 51.1 percent in the last five games.
Boarded
When Austin Peay was outrebounded 40-30 by Eastern Illinois, it was only the third time in the last 10 games it was outrebounded. Overall in OVC play, the Govs are out-rebounding the opposition by 1.6 rebounds (33.5-31.9) per game.
Four On The Floor
When TyShwan Edmondson (24), Jerome Clyburn (18), Josh Terry (11) and Melvin Baker (10) scored in double figures against Eastern Illinois, it was the third straight game the Govs place four players in twin figures.
Line Dancing
In the Governors' five-game winning streak they have made almost double (78 to 41) free throws as the opponents, taking 115 compared to the opponents' 67. Austin Peay was 21 of 29 from the free-throw line at Eastern Illinois compared to just 8-of-12 by the Panthers.
Back To The Roots
Over the Govs five-game win streak, the offense has gone back to its roots. Head coach Dave Loos' inside-out style has led to dominant performances by senior post-men John Fraley and Melvin Baker. Despite Baker being held to 10 points and Fraley four at Eastern Illinois, Baker is averaging 14.4 ppg and Fraley 13.2 ppg over the five-game stretch. The inside duo also is shooting a combined 63.7 percent from the floor.
Baker The Shot Maker
Over his last five games, Melvin Baker has become the Govs main offensive weapon. Not only is he averaging 14.4 points and 5.0 rebounds a game, he's also shooting 59.6 percent from the floor.
In fact, he's reached double figures in 15 of his last 16 games.
Heads Up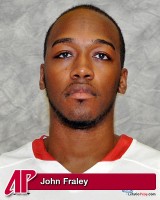 Since returning from a concussion that kept him out of nine straight games early this season, senior center John Fraley is averaging 10.9 ppg, shooting 62.3 percent, and 8.6 rpg in those 11 contests.
He is averaging 11.9 ppg and 9.5 rpg in eight OVC games thus far.
Line-Up Shuffle
Looking for answers to recent struggles, Austin Peay used different lineups numbers eight and nine during the OVC-opening weekend at Eastern Kentucky. At Morehead State, the Govs started Jerome Clyburn and TyShwan Edmondson in the backcourt, with Josh Terry and Melvin Baker at forward along with John Fraley at center. The Govs also used that same starting lineup since. APSU used seven different lineups for the entire 2010-11 season.
Starting Block
With Austin With Austin Peay utilizing nine different starting lineups this season only senior forward/guard Josh Terry has started all 21 games this season.
Next Game
Austin Peay Governors vs. UT Martin Skyhawks
7:30pm, Saturday, January 28th)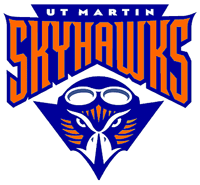 It wasn't supposed to be this way for UT Martin. After finishing the 2010-11 on a strong note, with the Skyhawks not only gaining the No. 8 seed in the OVC tournament but upsetting Tennessee State as well in the tourney's first round. With most of that cast returning, the Skyhawks appeared to be ready to make the climb up the OVC ladder.
But UTM entered the weekend at 3-18 and winless in the OVC. Guard Mike Liabo (15.3 ppg) leads the way while 6-7, 250-pound freshman forward Myles Taylor has been a major factor, averaging 13.0 and 5.0 rpg.
Sections
Sports
Topics
APSU, APSU Athletics, APSU Basketball, APSU Men's Basketball, APSU Sports, Austin Peay State University, Cape Girardeau MO, Dave Aaron Arena, Dave Loos, Dave Loos Court, Eastern Illinois, Eastern Kentucky, Governors, Govs, Jacksonville State, Jerome Clyburn, John Fraley, Josh Terry, Leon Powell, Marcus Brister, Marland Smith, Melvin Baker, Mike Liabo, Morehead State, Murray State, Myles Taylor, Ohio Valley Conference, Orange Park FL, OVC, OVC Newcomer of the Week, OVC Tournament, Redhawks, Show Me Center, SIU Edwardsville, Skyhawks, Southeast Missouri, Tennessee State, Tyler Stone, Tyshwan Edmondson, UT-Martin