Written by Sgt. Kimberly Menzies
4th Brigade Combat Team, 101st Airborne Division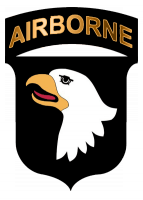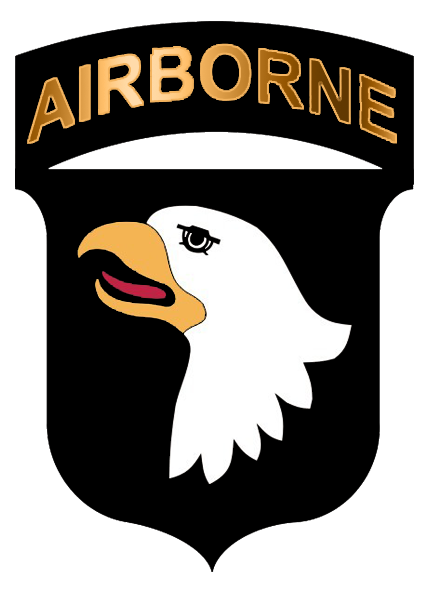 Fort Campbell, KY – A new breakfast to-go option at the 4th Brigade Combat Team, 101st Airborne Dining Facility is officially opened to soldiers, January 17th, 2012, at Fort Campbell, KY.
The new breakfast to-go area was added to provide soldiers with a time-saving alternative to the tradition way breakfast is offered at the dining facility.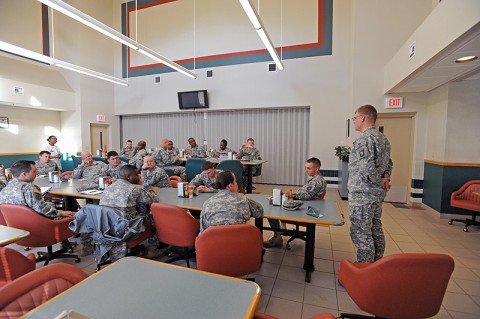 "This new addition was spring-boarded by request from soldiers and the chain of command who wanted a quick breakfast alternative that they can get while on the go," said U.S. Army Sgt. 1st Class Cassandra Carter, the 4th BCT dining facility manager from Headquarters and Headquarters Company, 801st Brigade Support Battalion, 4th BCT, 101st ABN DIV.
Many soldiers had stopped utilizing the DFAC for breakfast because of time constraints.
"I stopped eating breakfast at the DFAC because I was finding I couldn't make it through the lines and get to work on times," said U.S. Army Spc. Stephen R. Harmon, a soldier from Troop B, 1st Squadron, 61st Cavalry Regiment, 4th BCT, 101st ABN DIV and native of Charleston SC.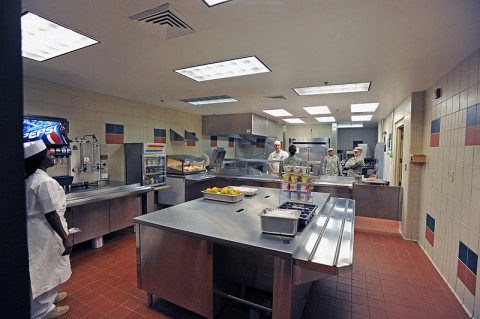 "I had a little extra time yesterday morning so I decided to grab some fruit at the DFAC when I saw this new to-go area," said Harmon. "It was great. They had lots to choose from, like breakfast sandwiches and fruit, and it was a really quick in-and-out option."
Wanting to gain feedback on this and other changes in the DFAC, two days after the official opening, the dining facility held a council meeting where soldiers were invited to attend and share their opinions on DFAC changes.
"I wanted to get input and feedback from soldiers who consume meals in the 4th BCT Dining Facility to find out what they liked about the to-go area and what we could improve on," said Carter.
Harmon was one of the soldiers who attended the council meeting and voiced his gratitude for the new to-go option.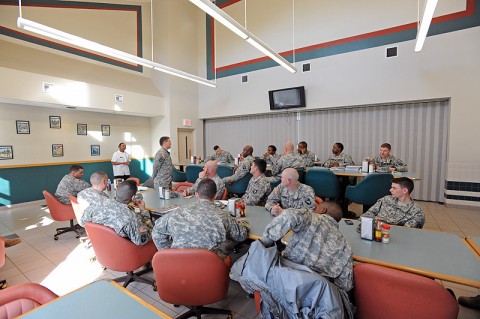 "I just wanted to say this option saved me a lot of time and I am glad that you started it," shared Harmon.
When asked if he had anything he would like to share with other soldiers, Harmon did not hesitate to answer.
"No matter what your experiences have been with the DFAC, come check this out," said Harmon. "The to-go made it worth it to comeback and re-try the DFAC."
The breakfast to-go area is open during the regular breakfast time block, 8:00am to 9:30am.