Austin Peay Men's Basketball vs. Tennessee State
January 30th, 2012 | Tipoff: 7:00pm
Gentry Center | Nashville, TN.

Nashville, TN – For the second time in less than a week, Austin Peay heads on the road with a place in the Ohio Valley Conference standings on the line. Last Thursday, the Governors dropped a disappointing 65-60 decision to Southeast Missouri with second place on the line.
This time the Govs head to Tennessee State, 7:00pm, Monday, with third-place as the prize. The two teams are currently locked in a third-place with respective 6-4 OVC records.
Both teams are coming in playing their third game in five days. And both teams are coming in playing winning basketball. The Govs have won six of their last seven games while Tennessee State has captured five of its last six–that only loss coming to APSU, 69-63, in Clarksville, January 16th.
The Govs had more trouble than expected against UT Martin, who came into Saturday's game winless in the OVC. They remain winless, largely after a closing 19-3 run allowed the Govs to pull away for a 92-73 victory.
John Fraley led the Govs with 23 points and 13 rebounds–his fourth double-double this season. He also had three blocked shots. TyShwan Edmondson added 22 points and a season high-eight rebounds while Josh Terry tossed in 16.
The Govs shot an impressive 54.5 percent (30 of 55) from the floor.
About Tennessee State
Tennessee State is led by 6-9 all-everything forward Robert Covington, who is averaging 17.7 ppg and 7.8 rpg. He is shooting an impressive 42.6 percent from three-point range. The talented junior had 30 against the Govs in the first match up.
In addition, sophomore guard Patrick Miller is averaging 11.8 ppg. Transfer forward Kellen Thornton and redshirt freshman M.J. Rhett provide the Tigers much size inside.
Governors Pardon
This is Austin Peay's 80th season of basketball.
Dave Loos, APSU's all-time winningest basketball coach, also is the OVC's all-time wins leader with 360 victories. He also has 442 career coaching wins.
The Dave Aaron Arena playing floor was named Dave Loos Court, Summer 2007. Loos is believed to be one of only three current Division I men's coaches who are coaching on courts that bear their respective names–Duke's Mike Krzyzewski and Syracuse's Jim Boeheim–are the other two. Valparaiso's Homer Drew, who retired after the 2010-11 season, had the floor named after him last season.
Since 1993-94, Austin Peay has finished no worse than fifth in the OVC standings.
Austin Peay has reached at least the OVC tournament semifinals in 13 of the last 17 years.
Austin Peay has made 27 straight appearances in the OVC tournament.
What You Should Know
The Series: This is the 69th meeting between the two Ohio Valley Conference rivals, Austin Peay and Tennessee State, with the Governors leading the series 43-25. The Govs have won two straight in the series, both in Clarksville, including the 69-63 Govs win, January 16th.
Deeper Meanings
What A Win Would Mean: The Govs would gain their 10th 2011-12 victory…it would be the Govs' second straight win…they would improve to 10-14…it would push the Govs to three games above the .500 mark in the OVC at 7-4…the Govs would end January with a 7-2 record…it would be the Govs fourth road win of 2011-12…it would even the Govs OVC road record at 3-3…it would be APSU's third straight win in the series…it would make Dave Loos 31-16 all-time against Tennessee State…..it would improve Dave Loos to 4-2 against current TSU coach John Cooper…it would be Loos' 443rd career coaching victory and his 361st APSU win.
What A Loss Would Mean: The Govs would fall to 9-15 on the season…APSU would slip back to .6-5 in the OVC…the Govs would fall to 3-10 on the road in the 2011-12 portion of the schedule…it would make the Govs 43-26 all-time in the series…it would be Dave Loos' first loss to Jason James…it would be head coach Dave Loos' 357th career loss and 304th Austin Peay defeat.
NBA-Like-Schedule
This is the second time in two weeks Austin Peay has met Tennessee State playing it third game in five days. Prior to playing TSU, January 16th, the Govs played Eastern Kentucky, January 12th, and Jacksonville State, January 14th. This past weekend saw Austin Peay play Southeast Missouri on the road last Thursday before playing host to UT Martin, Saturday.
Offensive Explosion
When Austin Peay scored 92 points in its 92-73 win against UT Martin, it marked the second most points scored by the Govs this season and the most in regulation. APSU scored 93 points in a 94-93 overtime loss to Detroit back on November 23rd.
Shooting Eye
When Austin Peay connected on 30 of 55 shots against UT Martin, that 54.5 percent shooting was the fourth time during OVC play where the Govs shot 50 percent or better. In fact, the Governors, who are shooting 44.4 percent overall this season, are shooting 47 percent during OVC play.
Defensive Streak Snapped
When UT Martin scored 73 points in the Govs' 92-73 win, Saturday night, it snapped a streak of six straight games where the Govs limited the opposition to fewer than 70 points.
Passing A Governors Legend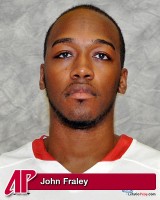 Senior John Fraley recorded 13 rebounds versus UTM, which brings his career total to 690. That moved him past former Govs and nine year NBA vet Trenton Hassell (1998-01) into 10th place all-time in school history.
Hassell had 685 rebounds during this three-season Govs career.
20-20
With senior center John Fraley (23) and senior TyShwan Edmondson (22) both scoring more than 20 points against UTM, it marked the first time the Govs had two players break the 20-point mark in the same game since Josh Terry and Melvin Baker accomplished the feat against Arkansas State, December 5th.
TY Holder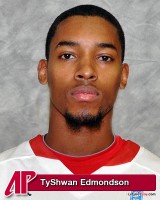 TyShwan Edmondson converted 6-of-9 field goals, including three three pointers, to score 22 points against UT Martin. It was the second time in three games the senior preseason All-OVC guard scored 20 or more points.
He had 24 points against Eastern Illinois. It also was the sixth time this season he has scored 20 or more points and the 17th time in his two-season career.
Free Stuff
The 28 made free throws and the 39 attempts the Govs shot against UT Martin were both team single-game highs for APSU.
Forty Knots
When Austin Peay out-rebound UT Martin, 40-31, it was the fourth time this season the Governors grabbed 40 rebounds in a game.
Doubling Up
When center John Fraley scored 23 points and grabbed 13 rebounds against UT Martin, it was his fourth double-double this season and 16th of his career.
Free Bird
When the Governors converted 28 of 39 free throws (71.8 percent) against UT Martin, it marked the third straight game the  Governors not only converted 20 or more free throws in a game but shot better than 70 percent. The Govs made 20 of 27 free throws (74.1 percent) against Southeast Missouri. The Govs were 21 of 29 (72.4 percent) at Eastern Illinois, January 21st.
Turning Up The Heat
When Southeast Missouri committed 23 turnovers, Thursday, it was the fourth time this season an opponent committed 20 or more turnovers against the Govs. However, it proved to be the most turnovers by an opponent this season. However, APSU is just 1-3 in games when they force 20 or more turnovers.
Steal Away
Prior to the UTM game, the previous three games saw Austin Peay's defense produced a total of 30 steals, including nine at Southeast Missouri. Austin Peay recorded double digits in steals when it had 10 against Eastern Illinois, January 21st, and 11th at SIU Edwardsville, January 19th. It was the fourth and fifth times this season the Govs had double-digit steals.
Next Game
Austin Peay Governors vs. Tennessee Tech Golden Eagles
7:00pm, Thursday, February 2nd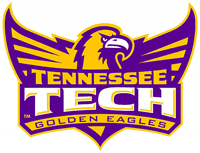 Govs set to play host to Tennessee Tech
Tennessee Tech owns one of the nation's top scoring duos in senior guard/forward Kevin Murphy and junior forward Jud Dillard. They entered last week ranked as the nation's third-ranked scoring duo. Murphy currently leads the OVC (and ranks 23rd nationally) in scoring at 19.4 ppg while Dillard is third in the OVC (and 38th nationally) at 18.3 ppg.
As good as that scoring duo is, the Govs also will be keeping a wary eye on point guard Zac Swansey, who came up big twice against the Govs a year ago when the Golden Eagles swept the Govs.