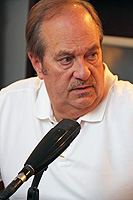 Clarksville, TN – In an update to a story reported earlier at Clarksville Online, it's been learned that a class-action lawsuit has not been filed on behalf of Clarksville Tennessee area businesses who were affected by the 2010 flooding.  Those interested in filing a claim against the U.S. Army Corps of Engineers will get the opportunity to meet with the law firm of Bass Berry and Sims this Friday morning to understand the procedure of filing that claim.
According to a representative at the Nashville law firm, the statute of limitations will expire in April 2012 for anyone to file a claim related to the 2010 floods that devastated much of the Middle Tennessee area, including Clarksville.
If a person wishes to file a claim, they will have this window of opportunity to do so.  Once the claims have been received by the Corps of Engineers, then they will have six months to respond to those claims.  It's expected that if the Corps denies the claims, then grounds exist for a class-action lawsuit, or a legal claim to recover any damages that resulted from the floods.
According to former federal judge Robert Echols, now an attorney at Bass Berry and Sims, "Considerable legal impediments exist for claims to be filed.  If they(flood victims) don't file a claim, then they have no chance to ever seek recovery against the Corps of Engineers for the damages they suffered.  Basically those affected by the flood of 2010 are preserving their right to sue for damages, and we've been asked to help them understand that process."
Judge Echols spoke to Clarksville Online exclusively today about this process, and we will have further updates as they become available.
For more on the story, see: Class Action lawsuit planned over 2010 floods
2010 Clarksville Tennessee Flood
Scenes from the flooding in Clarksville, Montgomery county Tennessee on Sunday, May 2nd 2010 around 3:00pm. Scenes include McGregor park and the cumberland river from the Wendy's parking lot, Austin Peay State University's Dunn center and baseball field, road closure of Farris drive behind the APSU baseball field due to high water, and the road closure of Dunbar Cave road at Dunbar Cave State park and Swan Lake golf course.