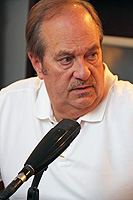 Clarksville, TN – There will be a class-action lawsuit filed against the Army Corps of Engineers for their handling of the 2010 floods filed on behalf of several Clarksville businesses.  Clarksville Online has learned that a meeting is scheduled for Friday with the Nashville law firm, Bass Berry and Sims to discuss the arrangements.  There's been no confirmation that the City of Clarksville will join the suit, since it's fairgrounds park property was flooded, causing delays in the marina project that was underway at the time.
The 2010 flood caused damages in the millions of dollars to business and property owners along the Cumberland River, when the banks of the river rose over sixty feet above flood stage.
Controversy on the Corps handling of the river became evident during the rains that had plagued Middle Tennessee.  Flood waters covered Riverside Drive, destroying many businesses and causing some businesses to close, or temporarily move from their location to stay in business.
The firm of Bass Berry and Sims is a high profile law firm who counts former U.S District Judge Robert Echols as a member of the firm.  The meeting Friday will be to discuss strategy and to include all parties who want to be a part of the suit.  It's expected to determine how the parties are to be paid, should the lawsuit be successful.  A similar lawsuit against the Corps of Engineers is making its way through the court system now, and is reportedly going to land in favor of the flood victims.
We will update you on this story after this Friday's meeting.
2010 Clarksville Tennesse Flood
A view of the flooding of Clarksville in 2010 from the Cunningham Bridge. You can see the Riverside drive area as well as the Clarksville Marina project.