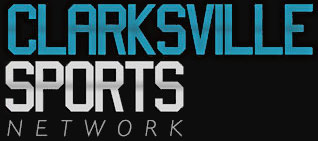 Clarksville, TN – The four fingers the members of a smiling Clarksville High School Girls Basketball team were holding up after the 64-29 victory over Rossview High School in the District 10-AAA Tournament Championship Game at Northeast High School said it all and now they hope it's the first step to winning a State Championship.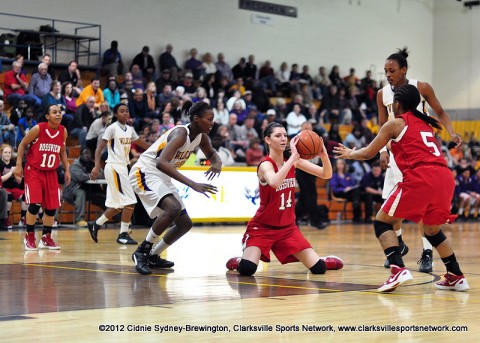 But not only did the Lady Wildcats (32-0) accomplish a rare feat in winning their fourth-straight district tournament title Monday night, they did in dominating fashion by going 73-1 over the four years in all 10-AAA regular season and tournament games played.
They also did it with another rarity in being led by a group of five seniors all going to play at Division I programs next season in Tennessee signee Bashaara Graves, Austin Peay signee Tiasha Gray, Florida signee Chandler Cooper, Mississippi State signee Jessy Ward  and Tennessee Tech signee Tia Nicholson.
Clarksville High moves onto to the Region 5-AAA quarterfinals, a game it will host at home at 7:00pm Friday against West Creek (18-10), the fourth place team out of 9-AAA. If the Lady Wildcats win they will play in the Region 5-AAA semifinals Saturday at Northeast against the winner of the 10-AAA No. 3 Dickson County (14-13) at 9-AAA No. 2 Station Camp (18-10) game.
Rossview (25-6) also moves onto the Region 5-AAA quarterfinals and for the second straight year as the 10-AAA runner up — a first in program history — will host a satellite game at 7:00pm Friday, this time against Beech (18-12), the third place team out of 9-AAA. A Lady Hawks win and they will face the winner of 10-AAA No. 4 Kenwood  (9-15) at 9-AAA No. 1 Mt. Juliet (29-3) in the semis at Northeast.
Clarksville High was led by Ward's 22 points and Graves 12.
Rossview was led by Jamie White's seven.
The game was close throughout the first half. Clarksville led 17-8 with 1:14 left in the first quarter on Sierra Rozar's lay up. But Rossview closed that to 17-11 on Jasmine Taylor's 3-pointer with six seconds to go.
And it got even closer when the Lady Hawks cut the lead down to 20-16 with 4:06 to play in the second on Janie White's lay up. The Lady Wildcats answered with a quick 7-2 run and took a 27-18 edge with 2:23 remaining on Rameja Bell's running one-hander.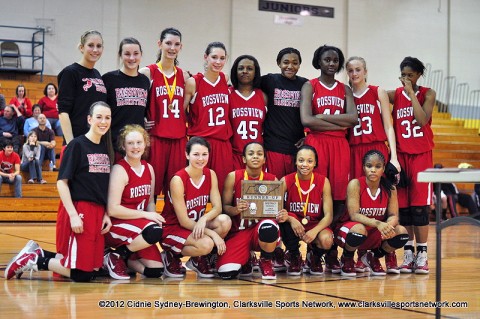 Rosssview answered and got it down to 27-20 advantage on another Janie White score with 2:08 left and the margin stayed within seven points for the rest of the quarter, ending with Clarksville leading at halftime 31-24.
But things started turning Clarksville High's way in third quarter and a 33-26 lead turned into a 45-27 lead by the end of the frame thanks largely in part to three Rossview turnovers. Gray's lay up with 7.8 seconds left made it the halftime score.
The fourth quarter was all Lady Wildcats, they outscored Rossview 19-2 holding Rossview scoreless until there was 1:31 left in the game.
Box Score
Clarksville High 64, Rossview 29
| Box Score | 1 | 2 | 3 | 4 | FINAL |
| --- | --- | --- | --- | --- | --- |
| Rossview High School (25-6) | 11 | 13 | 3 | 2 | 29 |
| Clarksville High School (32-0) | 17 | 14 | 14 | 19 | 64 |
Rossview 29
| Player | Points | FGs | 3pts | FTs |
| --- | --- | --- | --- | --- |
| 10 Brandy Claybrooks | 4 | 0 | 0 | 0 |
| 5 Ashley Powers | 5 | 0 | 1 | 0 |
| 11 Dayisha Skelton | 5 | 0 | 0 | 0 |
| 45 Jasmine Taylor | 3 | 0 | 1 | 0 |
| 14 Janie White | 7 | 0 | 1 | 0 |
| 12 Kylie White | 5 | 0 | 0 | 0 |
Clarksville High 64
| Player | Points | FGs | 3pts | FTs |
| --- | --- | --- | --- | --- |
| 20 Rameja Bell | 5 | 0 | 1 | 0 |
| 5 Chandler Cooper | 6 | 0 | 0 | 0 |
| 11 Bashaara Graves | 12 | 0 | 0 | 0 |
| 14 Tiasha Gray | 7 | 0 | 0 | 0 |
| 32 Tia Nicholson | 8 | 0 | 0 | 0 |
| 33 Sierra Rozar | 4 | 0 | 0 | 0 |
| 12 Jessy Ward | 22 | 0 | 3 | 0 |