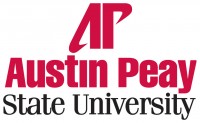 Clarksville, TN – If you follow trends and news pertaining to higher education, then you know one of the more exciting developments in recent years is the new Degree Compass course recommendation system that was created at Austin Peay State University.
The system, which was lauded by the Chronicle of Higher Education in the article, "The Netflix Effect: When Software Suggests Students' Courses," works similar to sites such as Netflix and Amazon.com by suggesting to students what courses best fit their talents and programs of study.
Its success led to Tennessee receiving a $1 million award last year from Complete College American and the Bill and Melinda Gates Foundation to implement Degree Compass at three other campuses in the state, and late last month, APSU officials learned of another accolade coming their way.
The Degree Compass system has been named as a finalist in the prestigious IMS Global Learning Consortium's Learning Impact Recognition and Awards, which will be judged at the annual Learning Impact Conference in Toronto on May 14th.
"It is a wonderful honor for our work to be recognized by the Global Learning Consortium," Dr. Tristan Denley, APSU provost and vice president of academic affairs, said. Denley conceived of the Degree Compass program and spearheaded its completion at APSU. "At Austin Peay, we have been hard at work to impact student success, and it is exciting for that work to be getting such international attention."
Denley and APSU President Tim Hall will travel to Toronto in May for the conference. The two were invited to do a featured panel at the conference, focusing on student success and college completion initiatives. The Degree Compass is one such highly successful initiative instituted by the APSU.
The Learning Impact Awards are designed to recognize the most impactful use of technology worldwide in support of learning. This program evaluates established, new and research efforts in context at an implementing learning institution.
The Degree Compass system, in contrast to systems that recommend movies or books, does not depend on which classes are "liked" more than others. Instead it uses predictive analytics techniques based on grade and enrollment data to rank courses according to factors that measure how well each course might help the student progress through their program.
The IMS Global Learning Consortium (IMS GLC) is a global nonprofit, member organization that works to enable the growth and impact of learning technology in education and corporate learning sectors worldwide.
For more information on Degree Compass, contact the APSU Office of Academic Affairs at 931.221.7676 or visit www.apsu.edu/information-technology/degree-compass-what.