Nashville, TN – More than 100 volunteer advocates from across the state gathered at the State Capitol as part of the Tennessee Obesity Task Force's annual Day on the Hill Wednesday, to support measures designed to give better access to healthy foods and programs helping children get more exercise and physical checkups in schools.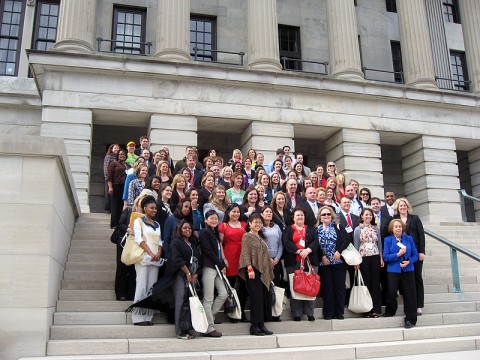 Volunteers sat in on committee meetings, met with their legislators to ask them for their support for healthy living programs such as Coordinated School Health, passed out low-fat lunches with fresh fruit to all legislative offices, and joined legislators and staff in an exercise session led by a personal trainer from the YMCA.
Representatives from the task force, Joan Randall of Vanderbilt and Chastity Mitchell of the American Heart Association, testified before the House Health and Human Resources Committee and the Senate General Welfare Committee.
The task force is supporting Tennessee Governor Bill Haslam's inclusion of Coordinated School Health in the budget as recurring funds, and bills which would address the issue of food deserts (areas where residents do not have access to fresh fruits and vegetables), the construction of community gardens, and the Safe Pathways to School bill, which would increase penalties for speeding in school zones, and use those funds to support measures that encourage walking, such as construction of sidewalks in neighborhoods.
Nearly one in three children in the U.S. is overweight or obese, putting them at higher risk for serious health problems such as heart disease, stroke and diabetes, even at a young age. The obesity rate for children 6 to 11 has quadrupled in the past four decades.
For more on the story, see: Tennessee Governor's Health and Wellness Task Force to Tackle Obesity
For more information on the Tennessee Obesity Task Force and their support of healthy living measures, visit www.eatwellplaymoretn.org.