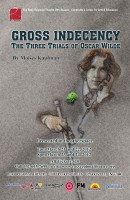 Clarksville, TN – Beginning March 21st, the Roxy Regional Theatre will delve deeper into the life and times of the man who penned such classics as The Picture of Dorian Gray and The Importance of Being Earnest, with a limited run of "Gross Indecency: The Three Trials of Oscar Wilde" in theotherspace, the Roxy's 50-seat black-box theatre located upstairs.
In three short months, Oscar Wilde, the most celebrated playwright and wit of Victorian England, was toppled from the apex of British society into humiliation and ruin.
Telling the gripping story of Wilde's tragic fall through actual trial documents, newspaper accounts and writings of the day, playwright Moisés Kaufman ignites an incendiary mix of sex and censorship, ultimately placing on trial a society that made the poet and playwright a scapegoat for its own sexual and moral insecurities and hypocrisies.
Directed by John McDonald and edited by Brandon Meeks, this staged reading of "Gross Indecency" features Colin Ryan as Oscar Wilde, with Josh Bernaski, Ryan Bowie, Ted Jones, Travis Kendrick, Ashley Laverty, Brandon Meeks, Gregory Pember and Phil Whittinghill portraying a cast of characters who speak not only of homosexuality, but also of a host of broader issues of class, art, religion, morality and politics.
This production contains language and subject matter not appropriate for all audiences.
"Gross Indecency" will be presented for four performances only: Wednesday and Thursday, March 21st and 22nd, at 7:00pm; and Friday and Saturday, March 23rd and 24th, at 8:00pm.
All tickets are $10.00 and may be purchased online at www.roxyregionaltheatre.org, by phone at 931.645.7699, or at the theatre during regular box office hours (9:00am to 2:00pm, Monday through Friday).