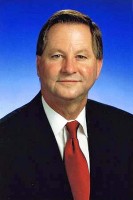 Clarksville, TN – Running on a solid record of common sense and responsible government, State Senator Tim Barnes announced Wednesday that he will seek reelection in the State Senate District 22 race this fall.
"I have appreciated the opportunity to serve the citizens of District 22 for more than three years, and I look forward to working for the chance to continue to serve you," Barnes said.
Barnes has been one of the Senate's most effective lawmakers, having routinely worked with members of both parties on initiatives that put people before politics.
This year, Barnes sponsored and passed legislation to provide unemployment benefits to trailing military spouses, positioning Tennessee to become just the fourth state in the nation to attain all of the Department of Defense's desired outcomes regarding military family support.
For his efforts, Barnes was recently honored by the Department of Defense, where he spoke with Secretary of Defense Leon Panetta and Army Chief of Staff Gen. Raymond T. Odierno at the Pentagon.
"As our troops return home, we must continue to show them our support during their transition from soldier to civilian," Barnes said. "Our military families sacrifice a lot for our freedoms, and this is just one small way to thank them."
Barnes has also been active in promoting common sense public safety measures, having authored a carbon-monoxide protection bill that has served as a national model for states to ensure that all rented recreational vehicles have working carbon monoxide detectors.
As a Juvenile Court judge and a father of three, Barnes holds children's issues close to his heart. He has strengthened state adoption laws to make it easier for parents to welcome children into loving homes, and he has passed legislation to keep pedophiles off school grounds and out of school events. Barnes even went so far as to correct a county school board when they misinterpreted the law, saving parents from the danger of sex offenders having access to their children.
"It is a great honor to represent my neighbors and their families, and it is also a great responsibility that I take seriously," Barnes said. "District 22 deserves to have a loyal, caring leader who puts others first, and I plan to work as hard as I can to make sure we do."