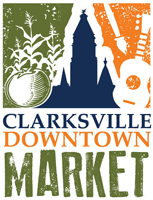 Clarksville, TN – When the 2012 Clarksville Downtown Market opens on Saturday, May 19th, approximately 60 vendors will be on hand to offer local fresh produce, baked goods, home décor, seasonal flowers and more. The market will also feature local artists and musicians.
The Clarksville Downtown Market will be open from 8:00am to 1:00pm every Saturday through October 19th on Public Square.
For two years in a row, Clarksville's Downtown Market, has been voted No. 1 in the state of Tennessee, in America's Favorite Farmers Markets contest, which was hosted by American Farmland Trust.
The online contest is a nationwide challenge to see which of America's farmers markets could rally the most support from their communities — and support is what we received!  We're looking forward to receiving even more support for this year's contest.
This year's market season will once again include night markets. Night markets are held in conjunction with the Jammin' in the Alley concert series that takes place every third Friday of the month on Strawberry Alley. Come ready to eat, dance, and shop!
Want to stay informed on what's "fresh" each Saturday at the Clarksville Downtown Market? Become a fan or follower on Facebook by searching Clarksville Downtown Market and stay "in the know." You can also visit our website at www.clarksvilledowntownmarket.com.
For more details on the Clarksville Downtown Market, please contact the Clarksville Parks and Recreation at 931-645-7476 or visit www.clarksvilledowntownmarket.com.