APSU Sports: Austin Peay Women's Track and Field

Jacksonville, FL – Junior Chantelle Grey got off to a great start but failed to qualify for the 800 meter quarterfinals , Thursday, at the 2012 NCAA Division I Outdoor Track and Field Championships East Preliminary Round, being held at North Florida's Hodges Stadium.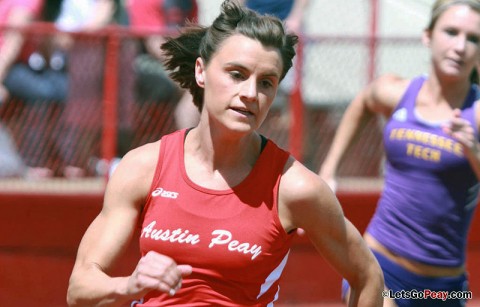 Running in Heat 3, which produced the event's top two qualifiers, Grey got off to a great start, sitting in second place at the 400-meter mark.
"She really went out well-59.1 (400 meters) is the fastest she has ever gone out," APSU coach Doug Molnar. "In fact, she was in third place and made move to get into second about the 400 meter mark. She was still in good shape at the 500 and 600 meters, but she ran out of gas, unfortunately, in the final 140 meters or so.
"She put a lot of pressure on the top runners, which was reflected in the top two qualifying times coming from that heat."
Grey finished with a time of 2:12.64 and ended up 43rd among Thursday's participants. The top three finishers from each of the six heats plus the next nine best qualifiers moved into Friday's quarterfinals.
"Chantelle learned a lot today," Molnar said. "She went for the win, which is her mentality, but it might have hurt her."
"I came a long way from where I was last year," Grey said. "I am going to be there next year."