Written by Staff Sgt. Barbara Ospina
5th Special Forces Group (Airborne) Public Affairs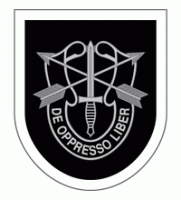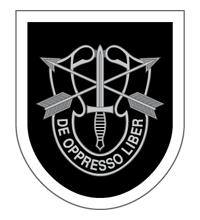 Fort Campbell, KY – Soldiers, family members, and friends of the 5th Special Forces Group (Airborne), also known as The Legion, gathered together on Gabriel Field to honor their fallen during a Memorial Ceremony May 19th.
The annual ceremony is an opportunity to pause and remember their fallen brethren, who lived lives that had meaning and that made a difference to their families, fellow Soldiers, and those in far off lands.
Col. Scott Brower, commander of 5th SFG (A), echoed the sentiments felt by every Legionnaire as he addressed the Gold Star families in attendance on the pride felt in being a part of this large Legion family.
"Today we take time to remember.  We remember those that have gone before us, but we also take time to reconnect with our big family – our Legion family," said Brower. "We share in the memory of our fallen, but rejoice and share your pride in all the goodness that they [the fallen] have created, much of which is right here, sitting in the stands and standing on this field."
The field was named in honor of Specialist 5 James P. Gabriel, who was one of the first Green Berets to be killed in Vietnam. It was memorialized with 57 markers placed around the perimeter of the field, each shadowed by an oak tree in remembrance of those who paid the ultimate sacrifice in training or combat operations.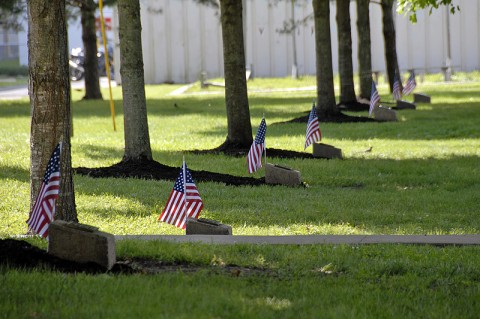 To a passerby Gabriel Field may resemble a typical parade field lined with trees, but to the families and Soldiers of the Legion it is hallowed ground. It is where they remember, where they reminisce, or where they pay tribute to a teammate, husband, father, or son.
"When our headquarters was over here [Gabriel Field], it was not uncommon to walk out the front door on your way somewhere and see a family member just sitting under a tree," commented Joyce Luster, the administrative assistant for the 5th SFG (A) Commander. "The next time you looked over, there would be a Soldier sitting with them."
Following a ceremonial wreath laying at each end of the field, the families were invited to place a long stemmed red rose upon their Soldier's marker and tree.  The offering of the red rose, which dates back to ancient roman times, symbolizes a message of love.
On this day, whether they were standing in formation, sitting in the stands, or placing a symbolic rose on a memorial marker, everyone at the ceremony, and those who could not attend, were connected. The ceremony displayed how strong a bond is within a family, and it never fades regardless of time or distance.