Clarksville, TN – On June 14th, 2012, around 1:00am, Robert Thomas Ford was taken into custody by Clarksville Police at his residence and booked into Montgomery County Jail on a charge of Second Degree Murder. The charge stemmed from the death of 24 year old Ashlee Garner in August 2011.
Police were called to 935 Charlotte Drive shortly after midnight in reference to a woman that was possibly deceased inside of the residence.
When Police arrived they found Ashlee Garner deceased inside of the house. The investigation by Detective Tim Finley revealed that Robert Ford and Ashlee Garner had been at a party inside of the residence where alcohol and drugs were consumed resulting in Ashlee Garner overdosing.
There were further indications that Robert Ford provided a prescription medication to Garner which contributed to her death.
There will be no other information released.
Robert Thomas Ford made bond and was released.
Robert Ford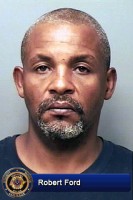 Name: Robert Thomas Ford (B/M)
DOB: 6/27/62
Given Address: 1010 Ridgecrest Drive, Clarksville, TN
Charge With: Second Degree Murder
Booked Into: Montgomery County Jail
Bond: $10,000.
Ford has made bond.