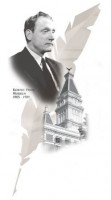 Clarksville, TN – Petite Marianne Walker scooped the entire literary world when she discovered primary material not available to the other three writers who had penned biographies of Margaret Mitchell. Starting out on a quest to seek information about John Marsh, a native of Maysville, Kentucky not far from Mrs. Walker's home, she found a wealth of letters between Margaret Mitchell and John Marsh that his family members had saved.
According to amazon.com, Marianne Walker, a native of Monroe, Louisiana, is a retired professor of English and Philosophy at Henderson (Kentucky) Community College. Walker is the author of "Margaret Mitchell and John Marsh: The Love Story Behind Gone With the Wind" and "When Cuba Conquered Kentucky." She has written for the New York Times and The Louisville-Courier-Journal Sunday Magazine. Walker and her husband, Ulvester, live in Henderson, Kentucky.
In addition to teaching English and philosophy, Walker has designed courses in Bioethics and in Hospice Care for the University of Kentucky Community College System. She has been the recipient of the University of Kentucky Alumni Award for Teacher of the Year (1993) and the Henderson Community College Outstanding Faculty Achievement Award. She was also named Woman of the Year by the Henderson Business and Professional Woman's Organization (1982).
Walker is a graduate of St. Mary's Dominican College in New Orleans and received her M.A. from the University of Evansville in Indiana. She and her husband, Ulvester, live in Henderson, Kentucky.
Marianne Walker's story and that of the lives of Mitchell and Marsh entranced her listeners at the Clarksville Writers' Conference as she told of her adventures that led up to this fascinating book.
Not finding what she wanted to know locally, Mrs. Walker had Ulvester drive her to Maysville to see what the historical society had on the life of John Marsh; discovering that they had nothing, she was about to leave discouraged when the docent said, "If you could find Francesca Marsh, John's sister-in-law (wife of John's youngest brother, Ben Gordon Marsh), you might find out what you'd like to know." Discovering from a postal clerk who believed Francesca still lived in a cabin in Clays Ferry, Kentucky, the information spurred Marianne and her reluctant husband (who just wanted to go back home and watch a baseball game!) to drive on to Clays Ferry that same day.
Finding Francesca Renick Marsh's home, they discovered that she was an avid watercolorist and birdwatcher at age 83 and also learned that Francesca loved to swim two miles a day in the Kentucky River wearing a brightly colored baseball cap so that boat pilots could see her! Marianne told Francesca that she was a school teacher who planned to present a talk on her sister-in-law's novel. Francesca had been previously burglarized so was guarded with strangers but her son, Renny, a geologist from Texas, was visiting so she let the Walkers come in.
Thus begins the story behind the story, almost as fascinating as the book itself.
Mrs. Walker became friends with Francesca who showed her a cardboard box filled with memorabilia from her life. Inside was a packet of letters that "positively thrilled" Mrs. Walker when she learned that they were from John Marsh to Margaret Mitchell. "It makes my socks crawl up my legs even today," Mrs. Walker admitted.
After she read the letters, she realized that this did not sound like the two people described in Road to Tara, the previous book written about their relationship—but without benefit of this primary material. As John Marsh described "Peggy" (the name Margaret was called by her friends), "She was a lot of fun."
Mrs. Walker eventually asked Francesca in her quest for what the couple was really like, "Are there any more letters?" Francesca revealed that there were other letters because the two women had learned to trust each other by this time. (Family members had become very upset and hurt by things that others had said in the press about John and Peggy.)
Francesca then introduced Marianne Walker to other members of the family including Mary Marsh Davis, the daughter of Henry Marsh who was John's older brother. John and Henry's mother had left all the letters she had kept over the years to Mary. Mary let Marianne Walker see 184 letters. The huge collection contained the "round robin" letters that had been passed from the mother to each of the five children in the family. The letter would start with Frances, (the mother), then go to each of the two daughters and three sons in turn to be returned to Frances.
Marianne was also able to see 46 letters owned by Rollin Zane, widower of John Marsh's younger sister.
Unfortunately, some of the original letters had been burned after Gone with the Wind became such an international hit. Margaret Mitchell was catapulted into the public eye. She ordered, as a result, "Destroy any letters; burn them all!"
Mrs. Walker researched intensively and was able to ascertain that John Marsh contributed a great deal to Peggy Mitchell's writing as her editor. The intimacy of their relationship is documented in Margaret Mitchell and John Marsh: The Love Story Behind Gone with the Wind and paints an entirely different picture of these two people than had been displayed in prior books about them.
The people whom Marianne Walker interviewed were people who actually knew John and Peggy.
Mrs. Walker had to get permission from the family estate attorney to go into the library archives in Atlanta to research her book. The attorney, Paul Anderson, told her that she could research the book, write it, and then let him read it. "I'll tell you," he admonished, "if you can publish it or not."
The prefaces to the book (she wrote two) tell the complete story of how Mrs. Walker completed her manuscript.
Mrs. Walker told her audience at the writers' conference of some of Margaret Mitchell's many charitable contributions. She learned when a black woman who had worked for her many years needed medical treatment of how hard it was for this dear person to obtain treatment. Margaret then proceeded to support the training of many black doctors at Morehouse College in Atlanta—paying their tuition, for books—in secret.
"John and Peggy did not change their lifestyle after Gone with the Wind brought in the huge amounts of money it did," Mrs. Walker insists. "They stayed in the same apartment and quietly supported charities like the Florence Crittenton Home for unmarried pregnant women. They helped in the training of these women and paid for hairstyles, stockings, clothing and other needs for their interviews so that they would be able to support themselves. Of course, it was a terrible scandal at the time to have a child without having been married.
"They also offered prizes in writing contests for prisoners.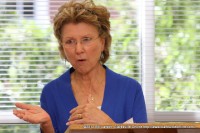 "Margaret Mitchell raised millions of dollars for a destroyer, The Atlanta, during World War II and had lunch with the sailors before they left port. When the ship was destroyed, she was distraught, and then raised millions for another one," Mrs. Walker said.
Margaret Mitchell didn't even attend when she was awarded the Pulitzer Prize. That night she went to hear her maid's church choir instead.
By then, many terrible things had been printed about her because some people had confused her with Caroline Miller, another Pulitzer winner who had left her husband and boys and gone to New York to live with a man who ran a florist there.
One of Margaret Mitchell's idiosyncrasies was that she constantly fibbed about her age. "The older she got," Mrs. Walker insisted, "the younger she said she was! When someone asked her age for a biographical sketch prior to her award, she said, 'I'll tell you where I was born but I won't tell you when. If that knocks me out of a Pulitzer Prize, so be it!"
Some odd facts about Gone with the Wind revealed by Mrs. Walker are that Prissy is the only character who was a real person, according to Margaret Mitchell, and when the movie won ten Oscars, Clark Gable (Rhett Butler) did not win one because the voters said he played himself!
Marianne Walker reminded her audience that Gone with the Wind has touched the hearts of people who are struggling, especially in war torn countries, for the past 75 years. It was sold on the black market in Europe and people in Germany were forbidden to read it under the Nazis who said it gave courage to resist invading armies.
Reading Margaret Mitchell and John Marsh: The Love Story Behind Gone with the Wind can give you a true perspective on not only the two lives involved by of the South in the years in which they lived in Atlanta.
It should definitely be on the "bucket list" of every Southerner who feels life affected by the Civil War on a daily basis.