NASA's Johnson Space Center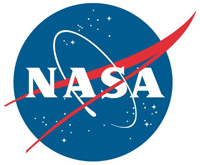 Houston, TX – Imagine a work place where it's perfectly OK to break stuff … on purpose. There is such a place at Johnson Space Center in the Structures Test Lab (STL). A team of technicians and engineers spend their days conducting structural static load testing of assemblies and components to support programs and organizations inside and outside of JSC.
The lab performs about 30 tests per year, and much of what they do involves mechanical properties testing, which means they assess the strength and durability of a range of materials and perform full-scale verification testing of payloads and spacecraft structures.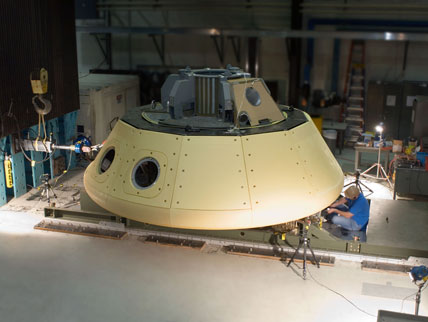 "For the past decade, our biggest customer has been the International Space Station program followed by research and development projects for the Orion program," said Chris Briggs, Structures Test and Analysis Section manager. "Along with the rest of JSC, we are developing our capability to bring in commercial customers from local industries to expand our customer base."
The lab was built in 1964 and has supported testing for the Apollo, Skylab, Apollo/Soyuz, Space Shuttle, Space Station and Orion programs.
"In the '60s, it was the Apollo Program and the moon landing," said Don Wilbanks, STL test director with more than 43 years of experience at JSC. "The '70s was Skylab and the Apollo/Soyuz docking program. In the '80s, it was the Space Shuttle Program and testing of the tile thermal protection system and testing of initial designs for the International Space Station structure."
More recently in 2002, the lab performed testing of the X-38 spacecraft and has supported development of Orion.
"In 2008 and then again this past November, the lab tested the Capsule Parachute Assembly System Parachute Test Vehicle, which is a full-scale Orion capsule mockup," Briggs said.
What's in there?
JSC team members and visitors walking by the building where the STL is located would never know that behind the facade lies a lab with 13,000 square feet of floor space. The STL is climate controlled and has a large inventory of hydraulic actuators, load cells, servo-valves, manifolds, flex hoses and test fixtures.
"The lab also houses a small machine shop where, primarily, material samples are cut from aluminum, steel, Inconel (a nickel-chromium based super-alloy) and titanium for testing, but also is used to manufacture smaller test fixtures for the lab," Briggs said.
"The combination of engineering controls, hazard control programs, training plans, and Personal Protective Equipment along with a strong safety culture helps ensure that work being conducted in the STL is performed both safely and efficiently," said Michael Stubblefield, STL safety engineer.
What do they test?
"Test operations also can easily accommodate rapid response research and development testing to support development of future technologies," Briggs said. "The test capabilities of the STL have been developed and maintained to meet JSC's specific needs for anomaly resolution, flight qualification, recertification, engineering evaluation and development."
Briggs said the lab team can provide quick turnaround testing to help resolve on-orbit and flight constraint anomalies such as the ISS solar array deployment, space station treadmill exercising machine and space shuttle astronaut safety tethers. The lab's load control system is capable of managing up to 32 channels of load or stroke control for hydraulic actuators and a PC-based data system provides the capability to record 256 channels of load, strain, pressure and displacement data.
During JSC's Innovation Day activities, the team gave a simple educational demonstration for employees in the lab's electro-mechanical load frame where they pulled to breakage off-the-shelf nylon straps. The straps were rated on the package at 200 pounds for normal use and at a breaking strength of 600 pounds.
"All of the straps ended up breaking with a loud 'Pop!' between 2,200 and 2,400 pounds, so you can rest assured when you buy rated straps at a hardware store, there is a large safety factor built into that rating," Briggs said.
To find out more about the STL, visit their website.