Plastic Bottle Division New this Year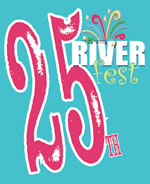 Clarksville, TN – The Riverfest Regatta, sponsored by U.S. Bank, launches Saturday, September 8th, 2012 at 10:00am at McGregor Park Boat Ramp.
This year marks the 6th year for the annual Riverfest Regatta, where participants build their own boats using materials from a specified list, and race them on the Cumberland River. The heats are timed with the fastest time being declared the winner in the respective classes. The course is 100 yards long.
Check in for participants starts at 9:00am.
Divisions
Adult Open
Youth w/ Adult (Parent or guardian must accompany participants 12-17 years of age in boat.
Business & Industry
Church/Civic Organization
How To Enter
Registration ends September 5th, 2012. No walkups or late entries will be accepted. Contestants may pre-register online at http://recpro.cityofclarksville.com/. Once you long-in or set-up your family's profile, go to "Events & Family Entertainment" or search for "Riverfest". Add the event to your shopping cart and check-out.
Pre-registration is also accepted by mail or in person at our Main Office (102 Public Square, Clarksville, TN 37040).
Approved Matterials
Bottle Boats
Any bottle up to 1 gallon in size
Duct Tape
Construction Adhesive
Rope less than ½ " thick
Cardboard Boats
Cardboard (Tubes are ALLOWED)
Duct Tape
Silicone Sealant
Construction Adhesive
Paint
The Competition
Boats will run heats. Each division will be run separately with the quickest time being declared the winner.
Awards
All boats/teams will be pre-judged prior to the racing competition. All awards will be announced and presented at the conclusion of the regatta.
Ship Shape Award: most creative boat design
"Cardboard Queen" Award: the prettiest boat in the regatta
Team unity Award: most spirited and most organized team (Looks don't matter here!)
Team Attire Award: most creative team costumes
The Titanic Award: awarded to the most spectacular sinking of your vessel, all components of your boat must be recovered to qualify.
Plus: First, second, and third place in all Divisions if your boat makes it across the finish line!!
Riverfest Regatta Official Rules
Boats must be made only from the materials on the materials list. If, upon inspection, the boat has been made with illegal materials it will be disqualified from the race and any other competition associated with the regatta.
No contact of vessels or splashing of water during the race.
No motors of any type may be used during the competition.
All participants must wear approved coast guard life preservers.
Boats in Adult and Youth Open are restricted to a maximum of 2 (two) occupants; Business, Industry and Church/Civic will be allowed 8 (eight) occupants per boat.
The team captain is responsible for the behavior of the team.
All judges decisions are final, there will be no protests.
During the competition, all crew must be in the boat, no towing, holding it between your legs, or using the life jacket to provide floatation.
NO ALCOHOL. Judges reserve the right to disqualify any competitor they deem impaired.
No animals are allowed in the vessels for the race.
Boats must be free of sharp edges, or other hazards.
Passenger area must not be enclosed above the shoulders of the smallest crewman during the competition.
Boat Dimensions – Boats will not exceed 15 feet in length from bow to stern, any boat in question will be measured and disqualified if over this length.
Registration and Judging – All boats must be registered and present by 9:30am the day of the race. If the boats are not on site they will be disqualified from award eligibility. The committee has the right to inspect the boat for illegal materials prior to or at the conclusion of a race. Any boat found using illegal materials will be disqualified from any and all participation in the regatta.
Races – Check-In begins at 9:00am. at the boat ramp area at McGregor Park and the regatta will start promptly at 10:00am. All boats will be launched from the courtesy boat dock at McGregor Park. All races will be run in timed heats and the fastest time in each class will be declared the winner. Each boat will be assigned a number to place on the boat for timer identification purposes. All results reported from the timers are official, and there will be no protests.
Boat launch area is for vessel drop off only. Vehicles and trailers must be parked off-site after unloading.
Disposal of Boats – All boats and parts of boats are to be disposed of properly by the team captain and/or team members. If a boat sinks, all debris is to be removed from the river
Hold Harmless Agreement – Every competitor in the regatta will be required to sign a hold harmless agreement and the regatta registration form. If these forms are not complete when the boat registration is submitted, they will not be allowed to participate.
Completed online registration (http://recpro.cityofclarksville.com) or mailed registration forms are due no later than Wednesday, September 5th, 2012 at 4:00pm.
Don't miss the spectacle! Everyone is invited to watch as groups attempt to paddle their cardboard or plastic bottle boats to the finish line on the Cumberland River at 9:00am Saturday, September 8th, at McGregor Park's courtesy boat dock.
For information please contact the Clarksville Parks and Recreation at 931.645.7476 or visit www.clarksvilleriverfest.com .