Written by Sgt. Shanika L. Futrell
159th Combat Aviation Brigade Public Affairs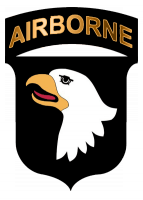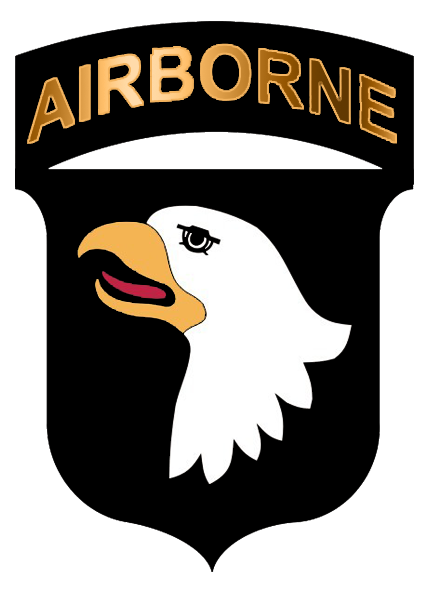 Fort Campbell, KY – Pop, Pop.
Soldiers hit the red clay dirt.
"Shots fired, shots fired – break!" screamed a Soldier on the radio. "Shots fired from the Madrasa (an Islamic learning center) – break. I have a team ready to check out the scene."
"There is a guy … heading down the path; I have eyes on – break," a voice responded over the radio. "He just threw a (rocket-propelled grenade) and rifle toward the wood line."
The 3rd Special Troops Battalion, 3rd Brigade Combat Team, 101st Airborne Division, Rakkasans, Soldiers continue to hone their skills on air assaults to ensure mission readiness when called upon to execute their mission in Afghanistan.
Air assaults are used to gain a positional advantage over the enemy using speed, the element of surprise and maneuverability, said Capt. Joe Byrnes, the company commander for Company A, 3rd STB.
"In order to capture Omar Habib (the objective for training purposes) and find whatever caches with weapons and explosives, you have to isolate the objective area," said Lt. Col. Mark Manns, the 3rd STB battalion commander.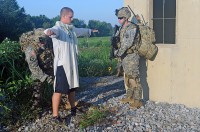 Soldiers never want to do anything to warn the enemy of their presence, so their training allows them to get in tune with the signals from the team leaders and low crawling in high, thorny, wet, spider- and tick- infested grass to obtain the objective.
"By the time the enemy hears the helicopter approaching, (we) should already be at their doorstep," said Manns. "The elements of speed and surprise may be lost along the way because of terrain, weather and other obstacles, which certainly can hinder speedy movement."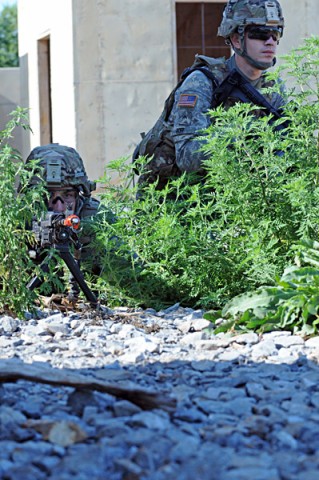 As the Soldiers continued their search in the mosquito swarmed, sweltering heat, they are careful to show respect to the local nationals, which were role-played by other Soldiers in the unit. Mutual respect is imperative to maintain the trust between U.S. coalition and locals in order to obtain a successful mission.
"What do you think will happen when the people in this village hear the helicopter?" asked Manns. "They are going to run. Doesn't mean they are bad – some maybe; some may just be scared. If some force from another (part of the) world came in, I would probably be a little scared."
While the training exercise focused on tactics, it also emphasized small unit leadership.
"It took me three years to figure this out, but the platoon leader is the PLATOON leader," said Byrnes. "I am going to be more concerned with you controlling your platoon and your squads, than I am about you being the one who calls up the reports. Have your RTO (radio telephone operator) capable of calling up those reports, because if you are trying to call up to headquarters when (one of your teams) needs to know what to do, that is going to be three minutes that  (they are) waiting on a response from you."
Radio etiquette is essential to the mission and to retrieve the help needed, and this training afforded the Soldiers one last time to practice it, not only amongst themselves, but with other assets that support them.
"Everyone needs to be able to talk on the radio," said Byrnes. "It takes a little practice, a lot of people think it's a completely different language when you are talking on a radio than when you are talking in person, but you learn through talking to aviators, who are on the radio all the time. It is a conversation going back and forth, but it is a clear concise conversation only getting across the (important) points."
With 3rd STB down to the wire facing deployment to Afghanistan, last-minute, brush-up training was all that was needed to ensure the Soldiers are mission ready.
"I hadn't just flown in on a helicopter, in the dark and hopped out with grass up to my waist here, so it was a little easier to see from a birds-eye-view from the roof of the building that (my) guys have done a pretty good job," said Manns. "We are going to continue to hone their skills … ensure no one is left with questions, and so that we have a better chance of coming back with all of our Soldiers."