Written by Brad Kirtley
APSU Sports Information Director

Clarksville, TN – The smallest man in Austin Peay's secondary is also the most respected player on the Governors defense.
Little has come easy for senior safety Antwaun Majors, a 5-9, 170-pound fifth-year senior. Despite twice earning Region Defensive Player of the Year Award and the prestigious Nick Coutras Award while at Mt. Juliet High School, he came to Austin Peay as a walk-on.
He redshirted in 2008 and then earned his way onto the field in 2009 with special teams play. When injuries thinned out the cornerback spot, he moved from safety to that position and immediately made his presence felt.
In 2010, Majors moved into the APSU starting lineup and no one has been able to get him off the field since. In fact, in 2010 he was APSU's co-tackle leader with 84 and then he led the Governors in tackles a year ago with 84, along with two interceptions.
After playing in the shadow of Amius Smith the last two years, Majors is now the face of the Govs' defense, both on and off the field. He earned his bachelor's degree in business last fall and now is pursuing other educational opportunities while at APSU.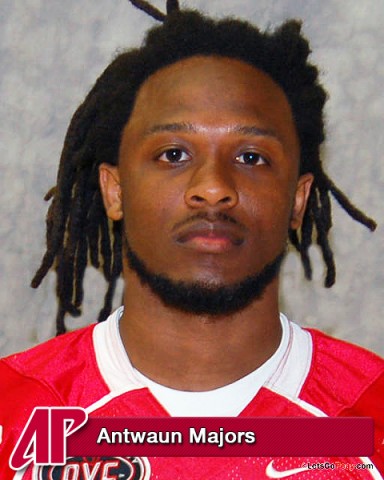 "Antwaun Majors is the key back there," APSU coach Rick Christophel said.  "He's the big guy back there; he's a very good football player. We moved him to strong safety this season.  He can play all three safety positions.
"He is a guy who has the total respect of his teammates. He came here as a walk-on and just worked his way up. They look to him in a lot of respects; off the field he already has earned his degree."
Behind Majors is EnRiques Perry, who started at the position a year ago. At free safety is sophomore Johnathan Shuler, who had 10 tackles off the bench against Murray State in 2011. Ricky Tinin, another respected walk-on, backs up Shuler.
At weak safety is another sophomore, Steven Rich, who was impressive in his first season.  He had 33 stops in a relief role, much of it behind Smith. Jeremy Ross, who had more than 100 total tackles in his first two APSU seasons before redshirting a year ago, is behind Rich. Bradford Wilmer, a redshirt freshman, also provides depth.
"We are in a pretty good position back there with the fact several of those guys been on the field for us, have got game experience," Christophel said. "We just can't afford any crucial injuries."
The Govs also have strong depth at cornerback. Junior Steven Ragin, who has been starting since his freshman season, has one corner locked down-her led the Govs in 2011 with three interceptions. Behind him is sophomore Montez Carlton and freshman Wes Sutherland. Carlton is another who saw much playing time a year ago.
At the other cornerback spot is sophomore Buddy Mitchell and junior Tyreon Clark, who was a starter two seasons ago along with J.J. Rutledge, the local product who has battled injuries during preseason.
"We feel like we have a lot of depth back there," Christophel said. "We have to have three of them step up. Some of our young ones really have improved. You look to three to four of them playing-you have to have type depth."