APSU Sports: Austin Peay Volleyball
Lauren Henderson lands Five Service Aces

Tuscaloosa, AL – Austin Peay State University's volleyball team didn't show the effects of a short turnaround at the Hampton Inn Bama Bash, downing Lamar in three sets (25-9, 25-23, 25-16) Saturday morning at Foster Auditorium.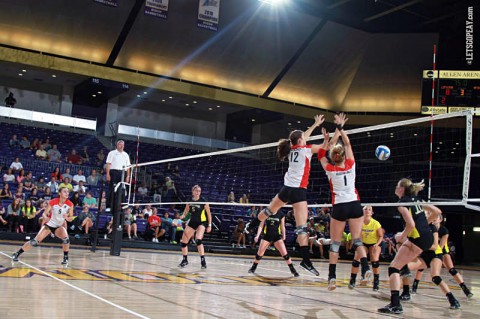 Austin Peay (4-9) returned to the court less than 12 hours after a hard-fought four-set loss to Alabama Friday night. Instead, it roared out of the gates with an impressive 25-9 first set victory against Lamar. The Lady Govs needed only eight kills in the set as they scored an impressive seven service aces, including five by junior middle blocker Lauren Henderson.
Lamar (7-6) bounced back in the second set, but only after finding itself in a five-point, 15-10, hole as Austin Peay dominated the early going. The Cardinals would get back within one point, 21-20, but could not get closer as the Lady Govs held on for the 25-23 win.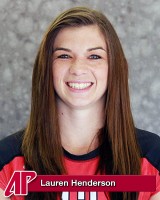 The third set was close early with 12 ties and five lead changes in the first 30 points and Lamar held a 14-12 lead. But a 6-0 Austin Peay run turned the tide and a final 6-0 run finished the job in a 25-16 match-ending set win.
"We executed our offense well this morning," said Lady Govs head coach Taylor Mott. "Lauren got on a roll serving in set one and really gave us momentum. Jada continues to excel offensively and our middles came up big as well. I can't say enough about the job Cami has done this weekend, she continues to make smart setting decisions."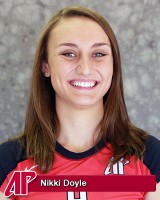 Henderson finished with eight kills and five service aces to lead Austin Peay. Senior outside hitter Nikki Doyle posted a team-best 12 kills and sophomore outside hitter Jada Stotts chipped in 10 kills. Austin Peay recorded 37 kills and a .301 attack percentage in the win.
Lamar was held to 22 kills and a .049 attack percentage as Austin Peay recorded 38 digs and five blocks. Sierra Whittaker led the Cardinals with seven kills.
Austin Peay closes out its stay at the Hampton Inn Bama Bash with a 4:30pm, Saturday contest against Alabama State.
Box Score
Austin Peay Lady Govs
Lamar vs Austin Peay
(Sept 8th 2012 at Tuscaloosa, AL)
Lamar
ATTACK
SET
SERVE
SRV
DEF
BLOCK
GEN
##
Player
SP
K
E
TA
PCT
A
SA
SE
RE
DIG
BS
BA
BE
BHE
Points

4

Cortney Moore

3

3

2

11

.091

0

0

0

1

0

1

1

0

0

4.5

5

Kensey Camp

3

0

0

3

.000

0

0

2

2

2

0

0

0

0

0.0

6

Tiffany Hunnicutt

3

1

2

8

-.125

0

0

0

0

0

0

1

0

1

1.5

10

Sierra Whittaker

3

8

11

29

-.103

1

2

3

4

2

0

0

0

0

10.0

16

Wendy Krell

3

4

2

12

.167

0

1

1

0

0

0

2

0

0

6.0

18

Alex Morford

2

0

0

1

.000

11

0

0

0

2

1

1

0

0

1.5

7

Cayli McKinney

3

0

0

1

.000

0

0

1

0

3

0

0

0

0

0.0

11

Madi Martin

2

1

0

3

.333

7

0

0

0

4

1

2

0

0

3.0

13

Christina Hobbs

1

1

1

5

.000

0

0

0

0

1

0

1

0

0

1.5

14

Erika Rojas

3

0

0

0

.000

3

1

1

1

12

0

0

0

0

1.0

19

Rebekah Rightnour

3

4

0

9

.444

0

0

0

0

1

0

0

0

0

4.0

Totals

3

22

18

82

.049

22

4

8

8

27

3

8

0

1

33.0

TOTAL TEAM BLOCKS: 7.0
TEAM ATTACK BY SET
Set
K
E
TA
Pct
Sideout
Pct

1

5

7

17

-.118

6-24

25%

2

11

6

39

.128

14-25

56%

3

6

5

26

.038

10-24

41%

30-73

41%

SET SCORES
1
2
3
TEAM RECORDS

Lamar

(0)

9

23

16

7-6

Austin Peay

(3)

25

25

25

4-9
Austin Peay
ATTACK
SET
SERVE
SRV
DEF
BLOCK
GEN
##
Player
SP
K
E
TA
PCT
A
SA
SE
RE
DIG
BS
BA
BE
BHE
Points

1

FIELDS, Cami

3

0

0

1

.000

29

1

1

0

7

0

1

0

1

1.5

5

SAIN, Alex

3

2

0

8

.250

1

0

1

0

7

0

0

0

0

2.0

8

LANDON, Liz

3

4

2

7

.286

1

0

2

0

5

0

4

0

0

6.0

9

DOYLE, Nikki

3

12

6

33

.182

1

1

0

1

5

0

1

0

1

13.5

12

HENDERSON, Lauren

3

8

2

14

.429

1

5

1

0

1

0

1

1

0

13.5

14

STOTTS, Jada

3

11

2

20

.450

0

1

2

3

7

0

3

1

1

13.5

3

ADAMS, April

3

0

0

0

.000

0

0

0

0

6

0

0

0

0

0.0

Totals

3

37

12

83

.301

33

8

7

4

38

0

10

2

3

50.0

TOTAL TEAM BLOCKS: 5.0
TEAM ATTACK BY SET
Set
K
E
TA
Pct
Sideout
Pct

1

8

3

18

.278

7-10

69%

2

14

6

34

.235

14-23

60%

3

15

3

31

.387

11-17

64%

32-50

63%

Site: Tuscaloosa, Ala. (Foster Auditorium)
Date: Sep 08, 2012 Attend: Time: 1:05
Referees: Kevin Wendelboe, David Duferne


| | | | | |
| --- | --- | --- | --- | --- |
| | 1 | 2 | 3 | Total |
| Tie scores | 0 | 9 | 12 | 21 |
| Lead changes | 0 | 5 | 5 | 10 |