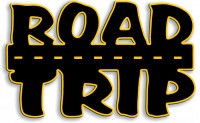 This is the final installment of a series of stories documenting a recent trip I made with my wife.  We packed an overnight bag and decided to drive.  No plans, no destination.  We were going to stay on the back roads and see what we could see.
We decided we would land in Louisville Kentucky for the night.  I had performed at a comedy club there once, and I spent the afternoon on Bardstown Road.  I knew that I needed to take her there because she would fall in love with all the shops, restaurants, boutiques and "personality" that just jumps out at you.  For those of us in Clarksville, Bardstown road is like several miles of our Franklin Street.  It's awesome.
So we found the Hampton Inn downtown and checked in.  It had been a long day, and we were ready to unwind.  Just up the road, I noticed a young lady take the stairs down into what looked like a restaurant, and sure enough, it was a local pizzeria.  I've learned that some of the best places to eat in this country are in the basement.  Almost like it's a secret that only few people know about.
"Spinellis" pizza is a legendary Louisville pizza restaurant.  When we walked into the place, it was much bigger than I thought.  The music was very eclectic, with Frank Sinatra greeting our ears when we arrived.  Several young people were working there and one other couple was enjoying their "pie."

"We have a very late crowd here" said the manager.  We got there at 7.  The pizza was awesome, but the best part of the meal was the deep fried Oreo cookie my wife had.
The next morning, I was off for coffee.  My wife doesn't share my affinity for the early morning, so I took my I-pad and went downstairs for some Joe.  While I was there, I struck up a conversation with some of the hotel employees and asked for a good breakfast joint.
Did I mention we were not going to patronize any restaurant chains?  We wanted locally owned eateries.
"Toast on Market" was where we went, and it was absolutely scrumptious.  We both ordered the Monte Cristo and it was, as they say, to die for.  The owner and his staff were so friendly, and they were really excited that we were from out of town and came to eat there.
"Most visitors don't even know we're here" he said.
After breakfast, we went back to clean up for the day and check out.  Then we headed to the Louisville Slugger Factory and Museum for the tour.  As a baseball fan, I found it fascinating.  There's quite a bit of history in that place, and it's well worth the time to visit.
I then took my wife to Bardstown road and we took our time driving so we could see just how many different businesses were there.  It's definitely a place you would want to visit when it's warmer, because walking it is the only way to go.  We love the hometown feel of that area, and I would love to eat or drink something from every single restaurant there.
We located Churchill Downs, (because we were in Louisville) and I don't think I have ever seen such a MASSIVE facility in my entire life.  I have definitely got to go back sometime when the weather is better, because it looked absolutely awesome.
So, we decided to get back on 31w and begin our trek home.  Passing through places like Upton, Fort Knox, Cave City and other little towns we would have never seen had we been on the interstate.  It was a peaceful, slow paced, beautiful drive home.  We didn't have the "big rigs" to deal with, and more importantly, the "speed demons" who race up behind you, demanding you pull aside so they can go on through.
We didn't have any particular thing we wanted to do, we just went.  We didn't have an itinerary, a deadline, or anything.  We met some delightfully friendly people, and we just did whatever we wanted.  The best part of the trip was the drive.  We saw the beautiful fall colors, and the quiet little towns that make this country great.  I would highly recommend you try it.
No plans, no destination.
Photo Gallery
About Hank Bonecutter
Sections
Commentary
Topics
Bardstown Road, Cave City, Fort Knox, Frank Sinatra, Hampton Inn, Louisville Kentucky, Louisville Slugger Factory and Museum, Monte Cristo, Spinellis, Toast on Market, Upton Kentucky