Austin Peay vs. Western Kentucky
Nov. 13th, 2012 | E.A. Diddle Arena |Bowling Green, KY

Clarksville, TN – Austin Peay will attempt to go 2-0 for the second time in three seasons as it travels to Bowling Green, KY, to face former Ohio Valley Conference rival Western Kentucky, 7:00pm, Tuesday, in E.A. Diddle Arena.
The Governors are coming off a 75-64 home win against Samford-only the fifth time in Dave Loos' 23 seasons APSU opened the season at home.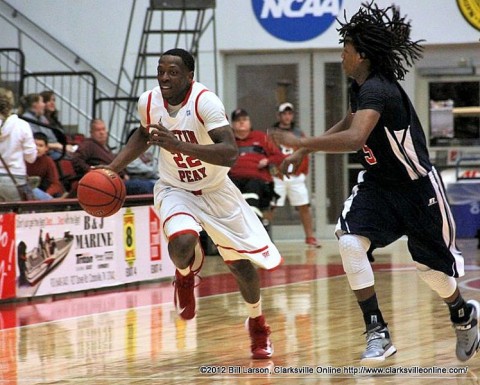 The Govs played solidly on both ends of the court, shooting 53.8 percent from the floor while limiting Samford to only 38.6 percent field-goal shooting, including only 2-of-24 from the floor.
Four Govs scored in double figures, led by Will Triggs' 15 points. Meanwhile, Chris Freeman came off the bench to record his first career double-double with 11 points and 12 rebounds-10 of the points and 11 of the rebounds came in the final half.
Meanwhile, junior guard Travis Betran was named OVC Newcomer of the Week after scoring 13 points, including a trio of three pointers, while also providing a hard-nosed defensive effort.
APSU started two freshmen in the opener, center Chris Horton and point guard AJ Lynch while the other two freshmen, Corey Arentsen and Preston Herring also played meaningful minutes.
Meanwhile, WKU erased a 14-point deficit to force overtime but fell 67-64 in overtime on  the road at Southern Miss, Saturday night.
Senior Jamal Crook led the Hilltoppers with a game-high 17 points while sophomore Kevin Kaspar hit a career-high four three-point field goals and finished with 13 points. George Fant added 10 points.
Defense continues to be the Hilltoppers trademark under coach Ray Harper, who took over in the second half of last season and led WKU to a stunning Sun Belt tourney title along with an NCAA tourney appearance.  In the opener, the Hilltoppers held Southern Miss to just 36.7 percent shooting.
What You Should Know
The Series: This is the 52nd meeting between Austin Peay, a member of the Ohio Valley Conference, and former OVC foe Western Kentucky, a Sun Belt Conference member. The Governors trail the series 14-37 and have lost five straight in the match up.
Deeper Meanings
What A Win Would Mean: The Govs would take a 2-0 mark into Saturday's game at DePaul, their second game of the Triple Crown Cancun Challenge. They would go to 2-0 to start the season for the second time in the last three years. Head coach Dave Loos would improve to 3-6 against the Hilltoppers. The Govs would end a five game losing streak in the series. APSU would improve to 15-37 all-time in the series.
What A Loss Would Mean: The Govs would drop to 1-1 on the season. They would drop to 101-126 against current Sun Belt Conference members. They would lose their sixth straight to Western Kentucky. It would drop Dave Loos to 0-1 against WKU coach Ray Harper. It would be Dave Loos' 311th APSU loss and 364th all-time.
Rare Home Season Opener
When Austin Peay defeated Samford, 75-54, in Dave Aaron Arena, it was only the fifth time in Dave Loos' 23-year tenure the Govs opened the regular season at home. Austin Peay are now 4-1 in those contests.
Betran Earns OVC Honor
Travis Betran, who scored 13 points and provided suffocating defense in his Austin Peay debut, was named OVC  Newcomer of the Week. The Kilgore College transfer connected on a trio of three pointers in his debut and authored the night's most impressive dunk in tallying his first double digit scoring performance as APSU won its season opener, 75-64, against Samford.
The Harlem, NY, native also had two assists, rebounds and steals along the way. Defensively, he played a key role in limiting Samford's top perimeter threat, Raijon Kelly, to just 5-of-15 from the
floor.
Defense Spending
Austin Peay limited Samford to just two made three-pointers and an abysmal 8.3 percent (2-of-24) shooting from beyond the arc. That mark equaled the lowest percentage the Govs limited an opponent in 2011-12 campaign when Cal when 1-for-12 in the season's second game.
Arc Flash
When the Govs made nine three-pointers against Samford it was one more than they made in any single game last season. Junior Travis Betran and senior Anthony Campbell hit three apiece for Austin Peay.
Double-Double
Chris Freeman's 11-point, 12-rebound effort off the bench solidified represented his first career double-double. Both the score and rebounding figures also were career bests. It was the first he led the Govs in rebounding since
November 26th, 2011.
Front Loaded
APSU received a trio of double-figure scoring performances from its frontline in the opener. Not only did Chris Freeman come off the bench to tally 11 points, but Edwardsville natives Will Triggs (15 points) and Anthony Campbell (13 points).
Will Power
When Will Triggs scored 15 points (6-of-8 field goals) it was the first time he paced APSU scoring since his freshman season when he scored 25 points against Tennessee Tech, February 7th, 2011.
Making Adjustments
Austin Peay started a pair of freshmen, point guard AJ Lynch and center Chris Horton, in the opener while the other two freshmen Corey Arentsen and Preston Herring saw meaningful minutes. Lynch finished with five points and a team-high five assists. Horton scored six points, on 3-of-3 field goals, while also grabbing six rebounds and blocking three shots. Arentsen tallied five points, including a key first-half three pointers. Herring failed to score in eight minutes.