Clarksville, TN – On December 4th, 2012, around 6:30pm, a 21 year old man in pursuit of Facebook romance arranged a meeting at McGregor Park with a woman, Sonya Howard, that he had been corresponding with on Facebook.
Howard did not show up, but Ayla Perigo, who claimed to be Howard's sister-in-law did. She told the 21 year old that she needed to meet him to ensure he was okay for Sonya.
As the man and Perigo were walking on the sidewalk, they were approached by a man, later identified as Ryan Anthony Dunn who asked for a smoke. The 21 year old refused to give him a cigarette and started to walk away at which time he was struck in the back of the head by Dunn, lost consciousness and fell to the ground.

He quickly regained consciousness and saw Dunn and Perigo running away. He discovered that he was missing a pocket knife, lighter, and some flint.

The victim had visible signs of injury and was taken to Gateway Medical Center where he was found to have a broken foot, swollen jaw, and head injury. He was treated and released.

On December 11th, 2012, Ryan Dunn was charged and booked into the Montgomery County Jail.

The investigation is ongoing and more charges are possible.  The lead investigator is Detective Tracy Woodruff.
Ryan Dunn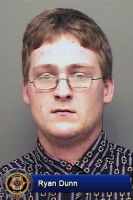 Name: Ryan Anthony Dunn
Race: W
Sex: M
DOB: 1/15/88
Given Address: 1160 Charlotte Hollow Road, Charlotte, TN
Arresting Officer: Timothy Adair
Charged With: Robbery
Booked Into: Montgomery County Jail
Bond: $10,000.
Sections
News
Topics
Ayla Perigo, Bond, Charlotte TN, Clarksville Police Department, Clarksville TN, Facebook, Gateway Medical Center, McGregor Park, Montgoery County Jail, robbery, Ryan Anthony Dunn, Sonya Howard, Timothy Adair, Tracy Woodruff